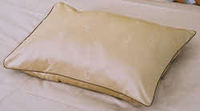 The scientific data just reinforces and confirms our products capabilities
Greensboro, NC (PRWEB) February 22, 2008
Cupron recently completed a four week double-blind clinical study on the effects of their Wrinkle Appearance Reducing Antimicrobial Pillowcase
Cupron's Chief Medical Scientist Dr. Gadi Barkow states, "We saw significant reduction of the appearance of facial wrinkles, crow's feet and fine lines and a statistically significant improvement in the texture and overall appearance of facial skin when consistently sleeping for 4 weeks every night on the pillowcases."
While the cosmetic effects of their pillowcases have been known for some time. Cupron's new study confirms previous cosmetic appearance-enhancing findings.
"We get excellent feedback from our customers on the effectiveness of our products" says Jamie Ben David Cupron's Director of E-commerce. "The scientific data just reinforces and confirms our products capabilities".
The copper ion based pillowcase is currently marketed by Cupron as a high tech all natural alternative to expensive wrinkle creams. The antimicrobial pillowcases also shield against bacteria, fungi and microbes that causes odors, deodorizing while they are used.
Cupron Inc holds a number of exclusive patents on copper impregnated fibers which the company has used to manufacturer a number of consumer related products. Cupron's recent developments include antimicrobial odor-resistant socks that fight against bacteria and fungi that cause ordors. They have also recently released an antimicrobial, hypoallergenic line of bath towels that contain technology to resist the smell of mold longer than regular towels.
In addition to Cupron's wrinkle appearance reducing pillowcase line the company manufactures a full line of antimicrobial bed sheet sets. The company also incorporates their wrinkle appearance reducing pillowcase into a "Beauty Sleep Set" which includes the Cupron pillowcase, sleep mask and cosmetic appearance enhancing cotton gloves.
The company has a number of new products scheduled to hit the market in the 2nd quarter of 2008.
More information on Cupron Inc can be found on their corporate Web site at http://www.Cupron.com
Cupron's antimicrobial pillowcases can be found at http://www.Cupronsales.com
###