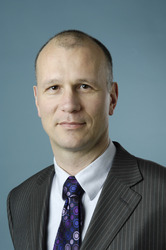 This global agreement with Prospero allows IRIS to complement its risk and financial analysis solution offering with proven best-of-breed solutions. Since the solutions can be implemented as stand alone or in connection with riskpro™, they are particularly appealing for emerging markets
Zurich (PRWEB) February 21, 2008
IRIS, Swiss provider and implementer of the field proven riskpro™ unified financial analysis software for enterprise risk and profitability management announced today the signing of a global solutions distribution agreement with Prospero, a Swiss technology provider specialized in credit risk rating and optimization solutions as well as in money laundering and fraud detection business.
The Prospero's credit rating solutions PRO-CR and PRO-AML can be seamlessly integrated to IRIS' riskpro™ financial analysis infrastructure based on the riskpro™ contract data definitions. PRO-CR optimizes rating models by improving the validation and benchmarking process of existing rating models and supports the building of new rating models, in line with the BASEL II requirements. PRO-AML Anti Money Laundering allows to identify suspicious transactions and persons with the corresponding monitoring and control of business processes.
"This global agreement with Prospero allows IRIS to complement its risk and financial analysis solution offering with proven best-of-breed solutions. Since the solutions can be implemented as stand alone or in connection with riskpro™, they are particularly appealing for emerging markets", commented Andreas Jäk, IRIS VP Sales and Marketing.
About IRIS
IRIS integrated risk management, founded in 1992 in Zurich, continuously develops, maintains and supports its riskpro™ financial analysis solutions for banks, insurances and non financial organizations. Delivery, implementation and consulting are executed worldwide through IRIS AG and a number of regional and local partners.
About riskpro™
riskpro™ enables organizations to measure and monitor risk and profitability enterprise-wide with a single cost effective integrated analysis infrastructure. riskpro™ covers: Market Risk Analysis, Credit Risk Analysis, Performance and Funds Transfer Pricing, Dynamic Simulation, Strategic Enterprise Management (SEM), Limit Management, Settlement Risk, Rating / Scoring, Basel II, Regulatory Capital, Economic Capital, Capital Allocation, IAS 32 & 39 / IFRS 7, Solvency II, Asset and Liability Management, Liquidity Risk Management and Analysis, Operational Risk.
These analyses cover all financial products, from saving accounts, insurance contracts to exotic options, for any type of accepted valuation method. The underlying universal contract-centric data model and calculation engine of riskpro™ ensures precision and consistency in all results. riskpro™ is currently being used or implemented in over 230 small to large financial organizations in 22 countries.
About Prospero
Established in 1999, Prospero focuses is in the development of software solutions to control business performance. The solutions detect and quantify market opportunities and risk exposure. Prospero's expertise is in data exploration based on advanced neuroevolution.
The result of the interdisciplinary approach is a new generation of software solutions - allowing to identify the relevant knowledge in information (data, text, images) in an autonomous process. Customers from diverse industry segments profit from the this new approach, as for example in marketing and sales optimization, detection of fraud and money laundering, credit rating optimization, medical diagnostics or drug development.
About PRO - CR and PRO - AML
The PRO-CR - Credit Rating is a comprehensive solution to create and optimize high quality rating models for customers, counterparties, built on the Basel II directives. The users benefit from the creation of forward looking rating models or/and in the validation or calibration of existing models from a self-learning process that finds itself error-minimized models with maximized separation power. The solution offers the possibility to simulate different risk strategies and find the optimal credit exposure.
The high performance solution PRO-AML - Anti Money Laundering offers all functions required in the daily compliance routine to identify risks of money laundering. The requirements of the regulations from different countries and the recommendations of internationally known anti money laundering experts have been completely implemented. Monitoring of the transactions, name checking against sanction - and PEP - lists, workflow and reporting are the main modules of the solution.
For more information, contact:
IRIS integrated risk management ag
Florencia Delia Schmidt
+41 (0)44 388 59 59
http://www.irisunified.com
System Design Consulting Prospero AG
Christian Schaefle
+41 (0)79 431 82 32
http://www.prospero.ch
###