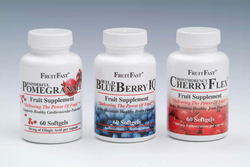 Due to the overwhelming response to a recent offer of our CherryFlex Softgels, we are continuing the free promotion with pomegranate and wild blueberry softgels - giving customers a chance to try these products made from whole fruit
Traverse City, MI (PRWEB) February 21, 2008
Online consumers can order a free bottle of Wonderful Pomegranate and Wild BlueBerry IQ® Softgels -paying only the shipping and handling charge of $12.95. This online offer is limited to one order per customer/household.
The whole fruit softgels are a convenient and affordable way to receive antioxidants and phytonutrients to promote a healthy lifestyle year round.
"Due to the overwhelming response to a recent offer of our CherryFlex Softgels, we are continuing the free promotion with pomegranate and wild blueberry softgels - giving customers a chance to try these products made from whole fruit" said FruitFast co-owner Steve deTar. "It's an irresistible opportunity to experience the benefits of these superfruits with a savings of over $40.00."
Why consider trying a daily regimen of two FruitFast® Softgel capsules? For starters, these are all natural-fruit products that contain no preservatives, artificial coloring or fillers. Only Grade A whole fruits, pure olive oil, gelatin, glycerin, purified water, beeswax and soy lecithin are used in the company's exclusive process.
The Wonderful Pomegranate Softgels are made from premium California-grown whole pomegranates. Each bottle contains 60 softgels.
Supports Healthy Cardiovascular Function*
Helps Maintain Already Healthy Cholesterol Levels*
Each Softgel Contains 50mg of Ellagic Acid 1
Each Softgel Contains 80mg of Anthocyanins 1
Each Softgel Contains Natural Phytoestrogens 1
FruitFast's Wild Blueberry IQ Softgels are made from whole North American Wild Blueberries and are laboratory tested.
Supports Healthy Brain Function*
Each Softgel Contains Compounds Like Cranberries To Support Healthy Urinary Tract Function*
Each Softgel Contains 40mg Anthocyanins 2
Each Softgel Contains Phytonutrients 2
Customers ordering the free bottles of Pomegranate and Wild BlueBerry IQ Softgels are not under any further obligation to buy additional product or sign up for recurring shipments. Orders may be placed online by clicking on the following link: FruitGels.com
About FruitFast®
FruitFast® is the exclusive producer of whole fruit softgel capsules including CherryFlex®, Wild Blueberry IQ® and their recent introduction---Wonderful Pomegranate. The dietary supplement company also produces a variety of high potency, condensed liquids and fruit bars made from 100% fruit.
*These statements have not been evaluated by the Food and Drug Administration. These products are not intended to diagnose, treat, cure or prevent any disease.
1 Wonderful Pomegranate Certificate of Analysis, http://www.fruitfast.com
2 Wild BlueBerry IQ® Certificate of Analysis, http://www.fruitfast.com
# # #