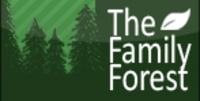 Families are looking to stay connected and in touch and TheFamilyForest.com is the perfect solution for any family.
Medford, MA (PRWEB) February 21, 2008
TheFamilyForest.com, the most intuitive social networking website for families has launched into public beta available at http://www.thefamilyforest.com. The new service lets families connect online to share news, a calendar, photos, and several more features in a safe and secure environment.
Unlike social websites of its kind, TheFamilyForest.com offers a more intuitive way of connecting with your family members with over 40 different relationship types that give users extensive power over who can view their personal content.
TheFamilyForest.com is uniquely designed to let users easily share the goings on in their lives with their closest family members. Users create a secure password protected account from which they can post news, photos, and notes. In addition, all relatives can post to a shared family calendar which allows them to choose which relatives can view different events based upon how they are related. A family directory allows relatives to share E-Mail addresses, phone numbers, home addresses and screen names and lets each user specify who exactly can and can't access that information.
"This project has been a few years in the making, and I'm glad to finally introduce it. Originally I just wanted more intuitive and useful social website for my family. When nothing I could find satisfied me, I decided to build my own," said Brian Muse, President and CEO of TheFamilyForest.com. "Families are looking to stay connected and in touch and TheFamilyForest.com is the perfect solution for any family. "
The new website is available at http://www.thefamilyforest.com and is open for anyone to try out. As the website grows, new features are constantly being added to improve the experience even more. The service and all of its features are one hundred percent free for anyone to use and is supported by minimally invasive advertisements.
"There are a few websites out there that require a paid subscription. We thought it would be a good idea to provide all the features they provide while stressing ease of use and the best experience possible, all at no cost to the user," said Jared Kahn, Vice President of TheFamilyForest.com. "There is no social website out there that works as well at connecting families."
TheFamilyForest.com also hosts a fun Family Map feature. This world map places a pin for each family member. Any user may drag their pin to wherever they are. This unique feature lets family members communicate where they're going on business, vacation, or if they're at home.
TheFamilyForest.com's owner, Brian Muse, claims that this is just the start. "Although we host some of the most unique and useful features imaginable, we're always cooking up new ideas to keep families connected no matter where they are in the world."t
About TheFamilyForest.com:
TheFamilyForest.com is a new private company dedicated to keeping the people you love in your life closer than ever. Via a private secure account, users can stay in touch with all their relatives over long distances.
###