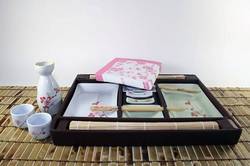 A Gift That Gives Right Back? The Giving Itself
Highland Park, IL (PRWEB) February 21, 2008
Bad day? Buy a gift for someone special in your life. Psychologists have long said that meaningful gift giving is an effective mood booster. MyGiftee.com reports how gift giving can put a smile on anyone's face.
According to "Gift-Giving Cycles in the Age of Online Shopping", a research article by University of Texas at Austin student Jill McClure Lowery, giving a unique gift can be more rewarding than the actual gift.
"The act of giving is usually more important and symbolic than the gift itself," says Lowery.
Through her research, Lowery has found that solely thinking of gifts as a monetary transaction diminishes the value of the gift for both the giver and receiver.
"Economics must be analyzed in understanding gift giving but there is little explanation through mere economics for all of the behaviors and feelings related to gift giving," notes Lowery.
In The New York Times's article, "A Gift That Gives Right Back? The Giving Itself", Tara Parker-Pope reports that experts say people who have the means to give and receive gifts but choose not to may unknowingly create distance between their friends and family.
Parker-Pope reports that Dr. Mary Ann McGrath, Associate Dean of the graduate school of business at Loyola University, finds that giving gifts shows who is significant in the giver's life.
"Who is on your gift list is telling you who is important in your life. It says who is more important and who is less important," says Dr. McGrath.
Be happy and give something meaningful back to friends and family with Unique Gifts from MyGiftee.com.
About MyGiftee.com
MyGiftee.com specializes in unique gifts for every person on your gift list. From Gifts For Her to Party Favors and Baby Gifts, the online gift supplier prides itself on offering an impressive array of gifts to make every occasion special. Each unique gift set comes with a beautifully decorated gift box and customized greeting card sure to bring a smile to the recipient's face. Find unique Gift Ideas at the MyGiftee Blog.
###