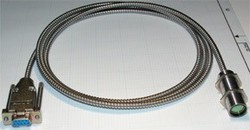 Tucson, AZ (Vocus) February 21, 2008
Everest Interscience of Tucson, Arizona, has released their design of a Micro-Miniature Infrared Thermometer System -- the Model 3800 Series. This is a new precision infrared temperature measurement system housed in a stainless steel case that is only 5/8" in diameter and 2-1/4" long, about the size of a man's thumb. There is no need for a remote transmitter to perform the linearization and signal conditioning for this infrared temperature sensor. The electronics are all included in the miniature sensor.
The Model 3800 comes in both a high-temperature formation (Model 3800ZH) and a low-temperature formation (Model 3800ZL). The temperature range for the Model 3800ZH is -40°C to 1100°C or -40°F to 2000°F. The temperature range for the low-temperature Model 3800ZL sensors is -40°C to 100°C or -40°F to 200°F. They have 1.0°C or 1.0°F and 0.1°C or 0.1°F, respectively. The accuracy for the Model 3800ZH is ±1% for Reading '1' and ±0.5°C or ±0.5°F for the low-temperature Model 3800ZL.
Their optical configuration is robust, aerospace-quality, double-coated Zinc Selenide Optics per Military Specification MIL-C-13508. They operate in the 8 < Wavelengths < 14 Microns spectral pass band. The standard field of view for the high-temperature infrared temperature sensor is 2° or 15° and 4° or 15° for the low-temperature. But, they can measure target sizes from one-half millimeter.
The standard output for the Model 3800's is 4-20 Milliamp (mA). They have a single-wire, loop-powered interface. Both the power and the signal can be carried on one conductor strand. This makes it impossible to 'fry' the instrument by installing it incorrectly. And, optional outputs of 0-5 Volt, Millivolt (mV) (1.0mV/°C for the high-temperature and 10 mV/°C for the low-temperature), and Type J or K Thermocouple are available.
Another feature of the infrared sensor is that they are 100% field interchangeable. They can be switched out in the field with no need for recalibration. Also, it is possible to do field calibration and Emissivity adjustment.
These micro-miniature infrared temperature sensors can be fitted onto existing machinery and run continuously to monitor the temperature of an operation where maintaining a certain temperature is of extreme importance. Their size makes them compact and easy to use.
Everest Interscience has a complete line of both hand-held and fixed-mounted infrared thermometers and temperature sensors in their product line. Also, they manufacture a portable calibration source (Model 1000) that can be used to accurately verify the accuracy of any infrared thermometer. All of these instruments can be viewed at the Everest website at http://www.everestinterscience.com.
If you have a possible application that you would like us to review and make a model recommendation, please go to http://www.everestinterscience.com/Forms/applicationanalysis.htm , complete our Application Analysis Form and e-mail it to us at info(at)everestinterscience.com.
####