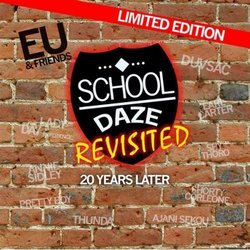 WMGW has believed in the 'School Daze Revisted' project from the start
Lanham, MD (PRWEB) February 21, 2008
Peter Dean's Teddy Bear Records, in conjunction with Gerald A. Wiggins' Wiggins Music Group Worldwide, Inc., announces the release of the compilation CD "School Daze Revisited" by E.U. & Friends. A celebration of the 20th anniversary of Spike Lee's breakthrough film, "School Daze," the CD features a remixed version of the platinum selling dance tune "Da Butt," performed by Go-Go music group E.U., which appeared on the original soundtrack.
The E.U. & Friends album can be found online at iTunes, Amazon.com, and emusic.com, as well as other leading online music outlets and traditional retail stores. After its appearance on the original motion picture soundtrack for "School Daze," "Da Butt" became a national sensation and reached number one on the Billboard charts. The song went a long way towards popularizing the indigenous Washington, DC musical phenomenon of Go-Go music. Billboard Magazine did a special feature on the new "School Daze Revisited" album, released by Teddy Bear Records and distributed by WMGW, Inc., in their September 15, 2007 print edition.
The partnership between Teddy Bear Records and WMGW, Inc. means big things for African-American music of all subgenres.
"WMGW has believed in the 'School Daze Revisted' project from the start," said Peter Dean, co-founder of Teddy Bear Records and a pioneering promoter in the original Go-Go scene. "Gerald and his team understand the tremendous importance that this music has, particularly for African-Americans during Black History Month and the upcoming Black Music Month (June 2008). 'Da Butt' and the new remixed version 'Da Butt 2008' are songs for the ages that continue to resonate in our collective psyche."
Go-Go, a subgenre of funk music, originated in the DC area in the late 70s. Based on a unique, syncopated rhythm and call and response vocals, it reached its Golden Age in the 1980s, with the original version of "Da Butt" its most popular hit outside of the DC area.
Gerald A. Wiggins, CEO of WMGW, Inc., spoke of his partner in this endeavor: "Peter Dean and his partner Ted Hopkins were instrumental in popularizing Go-Go music and its leading act, E.U. Now, 20 years later, their Teddy Bear Records company is positioned to break new artists and to use their promotional talents to launch them onto the national and international music scene." Other artists on the label, including Shorty Corleone, Lady Day, Earl Carter, Duv Sac, and Annie Sidley, contributed to the "School Daze Revisited" album.
About Teddy Bear Records:
After more than 10 years on hiatus, Teddy Bear Records in 2006 announced its re-emergence as a significant national independent record label and publishing company. Based in Washington, D.C., Teddy Bear promises to be a major force in the recording industry and boasts an impressive roster of talented artists, all of whom offer a new breed of infectious grooves and soulful recordings to mainstream popular culture.
About Wiggins Music Group Worldwide, Inc:
Gerald A. Wiggins, a Harlem native and Columbia University graduate, founded WMGW, Inc. The CEO and staff have over 20 years of experience in retail music distribution, both traditional and digital services. The company prides itself on catering to clients' individual needs and maintaining a high standard of integrity while creatively navigating a rapidly changing industry landscape.
###