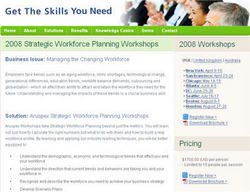 The session went way beyond theory and allowed us to really examine what we can do to position ourselves for future success, given the changing landscape of our workforce, in both a qualitative and quantitative way.
San Francisco (PRWEB) February 21, 2008
Business and government leaders challenged with an aging workforce, skills shortages and recruiting struggles don't have to passively accept their current path. Aruspex, a leading strategic workforce planning firm, will make their highly successful workforce planning workshops available in the United States during spring and summer 2008.
The two-day workshops are focused on equipping organizations with the tools and techniques to move from reactive gap-and-fill practices to proactively building a future workforce in line with business strategies. The series will launch on April 9-10 in New York City, then continue to six more cities through the spring and summer. Limited to 15 participants to ensure a personal, hands-on experience, the seminars will be led by Stacy Chapman and Tess Walton, Aruspex's co-founders, who have previously led successful workshops for clients such as Starbucks Coffee Company, Toyota and Aetna.
"Aruspex workshops demystify a complex business solution and provide an approach that you can deploy straight away," said Lacey All of Starbucks Coffee Company. "It's a great kick start for your workforce planning efforts."
"Strategic workforce planning is a crucial business skill," said Chapman. "Employers need the proper tools and techniques to ensure they will have a workforce that delivers on their long-term strategy. Our workshops take people beyond the metrics—they will not only learn how to calculate the right numbers, but what to do with them and how to build a real business profile."
Walton says: "It's important to ensure that the skills you take away from a workshop can be immediately applied in the workplace -- we ensure our course is truly practical and that's why attendees are so pleased with the outcomes."
Melissa Cummings, Head of Workforce Planning at Aetna, agrees. "The session went way beyond theory and allowed us to really examine what we can do to position ourselves for future success, given the changing landscape of our workforce, in both a qualitative and quantitative way."
Attendees will learn how to:

Understand the demographic, economic and technological trends that affect them and their workforce;
Understand the longer term impact of current trends and behaviors;
Recognize and describe the needed workforce to achieve a long-term business strategy;
Learn to lead the business in the development of scenario plans for their workforce;
Develop action plans;
Build comprehensive workforce plans.
Workshops will be held at the following places and dates: New York, April 9-10; San Francisco, April 23-24; Chicago, May 14-15; Atlanta, June 4-5; Washington, DC, June 25-26; Seattle, July 16-17; and Boston, August 6-7.
For more details and to register, visit http://www.aruspex.com/attend_workshop.html
Workshop Leaders
Stacy Chapman is a renowned human resources and software strategist with more than 15 years of experience in the industry. She is a co-founder of Aruspex, one of the world's leading workforce planning strategy firms; she currently oversees Aruspex's product strategy and marketing divisions. Stacy is a member of the Human Capital Institute's Expert Advisory Panel, and her work appears in publications around the world. Prior to Aruspex, she held a successful global strategy role with PeopleSoft, where she designed and launched market-leading workforce management solutions.
With nearly 16 years of strategic human resources experience, Tess Walton is a leading expert on workforce planning and strategy. Her expertise ranges from designing and implementing HR strategy to outsourcing and planning ahead for future workforce needs. Tess used this wealth of strategic planning experience to shape the framework of Aruspex, a strategy firm used by the world's leading companies, which she co-founded and serves as executive director. A highly sought speaker, Tess is frequently engaged by global organizations to develop their workforce planning processes and metrics.
About Aruspex
Aruspex delivers strategic workforce planning solutions that help organizations design and attain their future workforce. Our intuitive CAPTure planning software goes beyond simple reporting; it analyzes internal and external demographic trends, identifies future workforce gaps and guides executives and HR professionals to solve different scenarios. The Aruspex model was developed through years of practical experience, and we are passionate about workforce planning. For more information, visit http://www.aruspex.com.
This press release was distributed through eMediawire by Human Resources Marketer (HR Marketer: http://www.HRmarketer.com) on behalf of the company listed above.
# # #