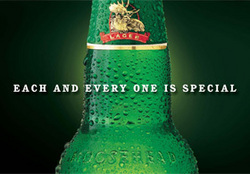 Companies like Moosehead Breweries can easily stay on top of potential issues developing online due to the automated and real-time nature of the Radian6 solution
Saint John, New Brunswick (PRWEB) February 22, 2008
Moosehead Breweries Ltd. announced today that it has selected Radian6 Technologies Inc. as its social media monitoring solution.
Moosehead Breweries is Canada's oldest independent brewery. It produces award-winning brands like Alpine Lager, Moosehead Lager, Moosehead Light and Clancy's Amber Ale.
Radian6's social media monitoring "dashboard" tracks what is being said online about brands, organizations and issues in real-time as discovered. The solution monitors all forms of social media, including blog sites, top video-sharing sites, opinion review forums, photo-sharing sites and micro-blogging platforms.
As Vice President of Public Affairs with Moosehead Breweries Limited, Joel Levesque is passionate about protecting the firm's reputation and it comes as no surprise that Levesque monitors what's being said online about the brewery and its brands.
Moosehead Breweries has been part of Radian6's Early Adopter Program (EAP) where leading firms were asked to help design Radian6's social media monitoring solution.
"We uncovered a blog post this past summer by an angry consumer who was sold a case of beer that had spoiled due to improper storage at the retail level," explained Levesque. "He shouldn't have been sold that product and if it wasn't for our use of Radian6's social media monitoring solution the customer's dissatisfaction could have spread, affecting our product's reputation and sales."
Levesque went on to explain that because of their quick discovery and immediate action to remedy the situation the blogger went on to post a glowing review of the excellent treatment he received from staff at the brewery.
"Companies like Moosehead Breweries can easily stay on top of potential issues developing online due to the automated and real-time nature of the Radian6 solution," said Marcel LeBrun, CEO of Radian6. "The ability to sort through thousands of potential online conversations and uncover the ones with the most commenting activity, viewership or engagement means corporate PR professionals can make the best use of their time."
"The Radian6 solution is easy and intuitive to use," points out Levesque, "I simply don't have time to browse the web all day with only limited staff. Radian6 has allowed Moosehead to avoid countless hours of collecting posts from various social media sources while at the same time helping to pinpoint possible issues online that we can address immediately."
Levesque concludes, "Brand reputation is so important in our business. Using Radian6's solution is a small investment to ensure it remains protected."
About Moosehead Breweries Limited:
Moosehead Breweries is Canada's third largest brewer by production volume and is the country's last major brewer still owned by Canadians. Headquartered in Saint John, New Brunswick, the company has been operated by the Oland family since it was established in 1867. For more information on Moosehead Breweries Ltd. or any of its products please visit http://www.moosehead.ca
About Radian6 Technologies Inc.:
Radian6 provides the social media monitoring solution for PR and advertising professionals. The company's flexible dashboard enables monitoring all forms of social media with results appearing in real-time as discovered. Various analysis tools give users the ability to uncover the top influencers and which conversations are having an impact online. Visit http://www.radian6.com for more information.
# # #