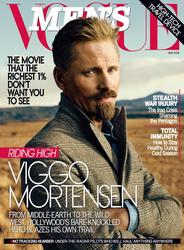 There's rarely a day he doesn't show up bearing gifts of some sort from his different weekend jaunts (during filming)
New York, NY (PRWEB) February 22, 2008
As an Oscar contender for his lead role in Eastern Promises, Viggo Mortensen
takes the high-profile recognition and top honor seriously. But he is still "nauseated" by the vague parallels between the Academy Awards and politics, where frenzied campaigning may or may not earn one an award. He vents to Men's Vogue about the fine line between participating in the crucial moments and getting caught up in the crusade.
Mortensen, on the politics of the Oscars:
The Oscars, he notes with some distaste, "are like politics. It's very much like people running for office." Now that he's been favored with an Oscar nomination, he won't pull a Brando and not show. Watching the presidential campaigns, Mortensen sees vaguely nauseating parallels. "They had this very important vote on the new attorney general, who's now been approved. And four senators who are running for president didn't even bother. They couldn't make it, I don't know. I want to learn more about that. I'm going to do some research on that. My feeling is, they're campaigning for their Oscars, you know? And they're too busy to realize this was a crucial moment for the country -- for the Constitution."
Mortensen, on President Bush:
Mortensen calls him "out-and-out simple. Which is not to say that he is simple. I think he's very clever. I don't think you get to be president twice fairly legitimately or illegitimately without being a smart person, even if you're kind of a tool. But Bush is a willing tool. Reagan was, too. Most presidents are."
Renee Zellweger on Mortensen, her costar in Appaloosa:
"There's rarely a day he doesn't show up bearing gifts of some sort from his different weekend jaunts (during filming)," says Zellweger, "where he'll go find some really obscure village behind Taos somewhere and visit an artists' colony and bring back some wares to share. And there was never a day that he wasn't plying us with dark chocolates. It was ridiculous. Bags full. Bags full! Bacon-covered truffles. Where was he getting it? He was the chocolate crack dealer."
On impromptu habits for Mortensen's character Nikolai in Eastern Promises:
In one scene Nikolai extinguishes his cigarette on his own tongue. That was Mortensen's idea – and there were multiple takes, so he was obliged to do it over and over again.
The March issue of Men's Vogue is available on newsstands now. Please visit http://www.mensvogue.com for expanded coverage of this issue.
For more information contact Elissa Lumley at 212-286-2225 or Elissa_Lumley @ condenast.com.
###