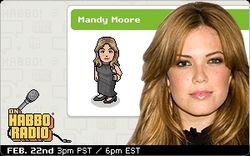 Los Angeles, CA (PRWEB) February 22, 2008
Habbo (http://www.habbo.com), the leading global online virtual world for teenagers, today announced that Mandy Moore, renowned singer, songwriter, actor and clothing designer, will stop by Habbo Radio for an interview with fans.
The multi-talented performer and style icon will chat with DJ RubeeRED about her hip new clothing line, Mblem, today, Friday, February 22 at 3 p.m. (PST)/6 p.m. (EST). Fans are invited to visit habbo.com now to submit interview questions. Moore will award gift bags composed of an Mblem little black dress, CD and autographed photo to the two Habbos with the best interview questions.
Also, until the end of February, Habbos will receive a special 20% discount when they shop online at http://www.mblem.net (Enter the code: HABBO).
To enjoy the Mandy Moore radio interview and possibly win a prize, log in to Habbo or join for free by going to habbo.com and clicking on the "Register Now" button. To hear the exclusive live discussion with famed Habbo DJ RubeeRED, tune into Habbo's Internet Radio Stream, Habbo Radio (http://www.habbo.com/community/celebrity_visits/81-habbo-radio).
About Mandy Moore
Mandy Moore broke onto the pop music scene at 14 years old. Since then, she has toured the world with her music, achieved platinum and gold record status and launched an impressive film career. In 2006, Moore created Mblem, a contemporary lifestyle clothing collection. What started as an assortment of vintage T-shirt has since expanded into a sophisticated collection of dresses, tunics, tops and knit pants. Mblem is currently available in specialty boutiques and finer department stores. For more information, visit: http://www.mblem.net/.
About Habbo
Habbo is a richly colorful, multi-dimensional virtual community and game environment for teens. Users join by creating a fully customized online character called a Habbo. From there, they can explore many public hang-outs, play a variety of games, connect with friends, decorate their own rooms, and have fun through creativity and self expression. Currently there are Habbo communities in 31 countries on five continents. To date, more than 89 million Habbo characters have been created and 8.3 million unique users worldwide visit Habbo each month (source: Google Analytics). Habbo is operated by Sulake Corporation, a Finnish online entertainment company.
Habbo press images: http://www.sulake.com/press/image_bank
Contact Information:
Susan Mills
Edelman Public Relations
323-202-1050
###