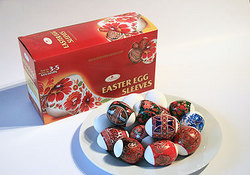 Vancouver, BC (PRWEB) February 22, 2008
Adtelect Consulting Inc. has launched its new e-commerce Web site, http://www.EasterEggSleeves.com, for leading supplier of Easter egg decoration and traditional Easter egg "Pysanka" products, UkrWest Ltd.
The new e-commerce site reflects distinctive UkrWest brand image and integrates with back-end business applications, enabling Internet customers and wholesale distributors to place online orders and access the latest product information. Adtelect Consulting Inc. anticipates that features within the new secure extranet will also increase Web usage by retailers and wholesale distributors of Easter-related products.
New product line Easter Egg Sleeves had a huge success in Canada, USA and Europe last year. This year, UkrWest welcomes the Easter Bunny to your home with unique assortment of Easter decorations and Easter gifts presented online. Anyone can use Easter egg sleeves "Pysanka" to instantly create unique Easter eggs in three seconds or less. Easy and fast application of PVC film technology allows consumer to create a large variety of unique Easter eggs in minutes for the whole family.
Adtelect Consulting Inc. was selected for its proven e-commerce expertise and its high reputation among customers. As a leading brand in the world of Easter egg decoration wraps it was important that the design of the new EasterEggSleeves.com Web site remained a consistent representation of the "Easter Egg Sleeves" brand with all marketing formats.
Adtelect Consulting Inc. is looking to offer UkrWest online customers and wholesale distributors a better experience and, as a result, to increase site traffic and online revenue, on a global scale.
For more information, visit http://www.EasterEggSleeves.com.
###