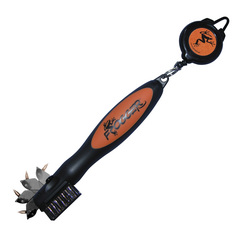 BrushPro's new 2 in 1 Shoe and Spike Cleaner is the first ever to combine both a rake like scraper and a wide brush head into one compact product that inserts into any BrushPro
Emerald Hills, CA (PRWEB) February 22, 2008
Bay Area based Frogger, a golf accessories company, announced today its "Best New Product" award for its BrushPro, an ergonomically designed, retractable tool that allows golfers to effectively clean clubs, grooves, shoes and spikes in seconds.
BrushPro was one of three product winners at the 2008 PGA Merchandise Show in Orlando, Florida. The event drew over 1200 exhibitors.
"BrushPro's new 2 in 1 Shoe and Spike Cleaner is the first ever to combine both a rake like scraper and a wide brush head into one compact product that inserts into any BrushPro," says company founder Jeremiah Bohannon. "The combination and small size makes it a more effective and convenient golf shoe and spike cleaner."
BrushPro received a 98 percent recommendation rating in a 2007 PGA Tour Partners Club user review, the second-highest approval rating for a golf accessory in the program's history.
The PGA Merchandise Show brings together PGA professionals, golf industry leaders, manufacturers, retailers, and media from 90 countries to preview the latest in equipment, technology, apparel and accessories.
BrushPro is available in orange, red, blue, and gray and retails for $14.99. The new interchangeable 2 in 1 Shoe and Spike Cleaner retail for $5.99, replaceable Brush Heads are $4.99, and replaceable Groove Cleaners are $3.99. BrushPro is available at select retail stores and online at http://www.froggergolf.com. For more information or to request a sample, please contact Jeremiah Bohannon at 800-718-FROG.
###