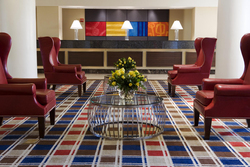 East Rutherford, NJ (PRWEB) February 25, 2008
Sheraton Meadowlands Hotel and Conference Center is a reinvented Hotel and Conference Center located just minutes from Manhattan and everything that makes New York City one of the most popular travel destinations in the World; Times Square, Central Park, Broadway Shows, World-Class Dining and non-stop Shopping and Entertainment.
Visit the Website
Sheraton Meadowlands Hotel and Conference Center has recently completed a $17 million-dollar rennovation including: Luxury Accommodations, State of the Art Meeting Space, Award-Winning Dining and Genuine Hospitality to provide the Perfect Guest Experience.
Sheraton Meadowlands Hotel and Conference Center has also launched a new Website to showcase all that's new at the East Rutherford, New Jersey Hotel. The Hotel's new Website features include:
Hotel Photo Tours and Online Commercial: These Interactive Tools feature animated Graphics and Images with Music and text to present all that the Hotel and area has to offer its Guests.
Interactive New Jersey Map: This Interactive Map allows Website Visitors to view nearby Landmarks, Attractions and other Activities in New Jersey and New York City that Guests may wish to visit during their stay at Sheraton Meadowlands Hotel and Conference Center.
Press & Media Room: This Online Content Distribution Tool gives Writers and Press Agents instant access to the Hotels collection of Images, Articles, Press Releases, Online Tours and Photo Galleries for use in the production of their news stories about the Hotel.
Calendar of Events: This Online Calendar showcases all the exciting upcoming Events being held at Sheraton Meadowlands Hotel and in the area.
Fact Sheets: The Hotel's Website features Printable Fact Sheets for many of the key areas of the Website; Accommodations, Overview and Meetings. These Fact Sheets provide Guests with a quick and easy way to print out important information about the Hotel to help plan for their stay.
Things to Do: If you want to know the Top 20 'Things to Do' in New Jersey and New York City, this list of recommended activities is a great resource.
PURE Room: The PURE Rooms at Sheraton Meadowlands Hotel offer the cleanest, most comfortable air a Hotel room can offer. These allergy friendly accommodations receive the most complete treatments available - designed to remove allergens from all surfaces, fabrics, and air flow.
Visitors to the Website can also Check Rates, Make Reservations or call for Reservations at: 201.896.0500.
About Sheraton Meadowlands Hotel and Conference Center:
The Sheraton Meadowlands Hotel & Conference Center is just eight miles from midtown Manhattan and 15 minutes from Newark Liberty Airport (EWR). The Hotel offers easy access to Giants Stadium (home of the New York Giants, New York Jets and Redbulls) and the Continental Airlines Arena (home of the Nets and Devils), as well as the Meadowlands Convention Center, Meadowlands Racetrack and the Secaucus Outlet Center.
The Hotel is owned by The Buccini/Pollin Group, a privately-held, full-service real estate acquisition, development and Management Company, and operated by PM Hospitality Strategies, Inc. the company's Hotel Management affiliate.
Take a Tour of Sheraton Meadowlands Hotel and View thier Interactive Map to see all there is to do during your stay. (http://www.sheratonmeadowlandshotel.com/media)
To Make a Reservation or Check Rates, call: 201.896.0500.
###