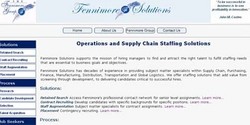 you must see the profitability in innovation.
Arlington Heights, IL (PRWEB) February 25, 2008
Leveraging over twenty-five years of building contacts and relationships within supply chain and operations management, Fennimore Group is launching Fennimore Solutions, a new staffing resource. A leading Chicago-based management consulting resource for Fortune 500 companies in change and process management, and business plan implementation, Fennimore Group's new division is optimally positioned to provide talented candidates with focused manager, director, and executive search and selection services in these arenas. Fennimore Solutions will capitalize on professional relationships, providing Retained Search, Contract Recruiting, Staff Augmentation, and Placement staffing solutions.
"Fennimore Solutions has the in-depth knowledge necessary to find a top candidate meeting your specific requirements. With complete hands on experience, we have a greater understanding of needs and a stronger potential for the best results in manager, director and executive search and selection," states co-founder and President John Coates.
Director of Fennimore Solutions, Bill Broderick concurs, noting the vision with which both the consulting and staffing arms of this company are guided: "To be successful," he states, "you must see the profitability in innovation."
Fennimore Group clients include Fortune 500 manufacturing and retail companies as well as successful mid-sized market niche organizations, and the firm's core competencies include Supply Chain, Global Logistics, Purchasing, Finance, Manufacturing, Retail, and Distribution. The overall focus is the end-to-end global flow of products, merchandise, and information, with particular strength in change management leadership, integrating and deploying best practices. Additionally, Fennimore Group helps companies attain excellence in building vision, implementing strategy and design, streamlining operations, incorporating effective technology, and more.
Fennimore Solutions recruitment partners have compiled twenty-five years of networking in the supply chain consulting field and combined it with a strategic approach; the objective is to use their competitive edge as they compare candidates and recruit the best talent in an industry they know well.
For more information contact Bill Broderick, visit fennimoresolutions.com or fennimoregroup.com.
About Fennimore Group and Fennimore Solutions:
John Coates is President and CEO of The Fennimore Group. He has experience as a Senior Practice Leader with a big four consulting firm in Global Logistics, having developed an integrated supply network throughout Latin America. He has also held senior posts with several global 3PL organizations in his over 30 years experience in global supply chain operations.
Bill Broderick is Director of Fennimore Solutions, Inc. and has over 25 years experience in human resource across a range of industries. His focus within executive search and selection ensures dependability and client confidence, necessary in today's highly competitive talent 'race for excellence' and in government regulatory compliance including OFCCP (Office of Federal Contract Compliance Programs) and EEOC (Equal Employment Opportunity Commission).
###