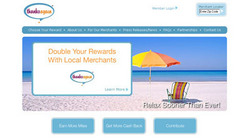 Partnering with DealerMiles and adding hundreds of auto dealerships to our platform will allow Thanks Again members to earn more rewards in a new, high ticket business sector
Tyrone, GA (PRWEB) February 26, 2008
Thanks Again, LLC and DealerMiles, LLC announce the launch of a new partnership allowing registered Thanks Again members to earn incentive airline miles and other rewards at participating auto dealers for auto service and parts purchases. Participating auto dealers are members of the DealerMiles Customer Loyalty Program.
Through this partnership, DealerMiles dealerships and the consumers using their products and services will now be able to securely earn, track, and in the cases of the dealerships, distribute miles in a seamless fashion on the Thanks Again registered card platform. The partnership reduces cost and administrative hassles for dealerships participating in incentive airline miles programs.
"Partnering with DealerMiles and adding hundreds of auto dealerships to our platform will allow Thanks Again members to earn more rewards in a new, high ticket business sector," said Marc Ellis, Thanks Again's CEO. "This partnership will increase the number of registered consumers and help increase the sales of all Thanks Again participating merchants." Ellis has over a decade of experience in effectively building, branding, and promoting marketing channels within fragmented industries.
The explosion of consumer rewards programs has led to the growth of the merchant-funded reward space. Merchants rightly see this success-based reward system as economical, great for producing incremental sales and leading to consumer satisfaction and retention. The registered card system makes the consumer rewards program easy to implement and manage.
Explaining this phenomenon, DealerMiles CEO Jim Burness added: "DealerMiles has been successful in developing a national network of dealerships nationwide with our paper-based system over the last seven years. Our new partnership with Thanks Again gives us access to industry-leading registered card technology, which will substantially accelerate our expansion in the Auto Dealer space and make administration for our current clients much easier." Burness' 15 years of experience in sales and service within the auto industry has led him to the concept allowing auto dealerships to increase sales and loyalty by offering incentive airline miles.
To learn more about Thanks Again, visit ThanksAgain.com.
About Thanks Again:
Thanks Again is a merchant-funded reward network that allows large National Reward Programs to accelerate reward earning opportunities for millions of their members. The Thanks Again Rewarding MerchantSM network is a local merchant consortium with a current presence in 41 of the top 50 markets across 30+ states.
About DealerMiles:
DealerMiles® works with hundreds of auto dealerships nationwide to enable consumers to earn incremental airline miles. Headquartered in Denver, DealerMiles works with franchised dealerships of every brand, including Mercedes-Benz, Lexus, Honda, Toyota, Infiniti, Nissan, Volvo, Ford, and GM, and others.
###