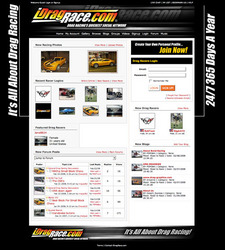 The personal profiles at iDragRace.com are fully customizable. Members can completely personalize their profile page and every member gets their own address at iDragRace.com
Novi, MI (PRWEB) February 23, 2008
http://www.idragrace.com, a drag racing inspired social networking Web site featuring forums, blogs, videos, and racer profiles is officially launched. iDragRace.com which will officially launch February 22, 2008 is the creation of Michigan drag racers Warren Nice and Rob Tuun.
"I first had the idea to create this Web site a few years ago while I was searching the web for information about my project car. I quickly discovered there was no unified source of information relevant to drag racing." said Tuun.
iDragRace.com offers powerful forum and blogging tools that are easy to understand and use.
"Our goal was to create a social networking site for drag racers and drag racing fans that was easy to use and navigate. Now, with the launch of iDragRace.com it's easier than ever for drag racers to share information, get advice, watch videos or simply just hang out. I believe we have successfully created the best drag racing site on the net," said Nice.
iDragRace.com boasts more advanced features such as a fully loaded video sharing system where members can easily view, share and upload drag racing related videos and an advanced messaging system for site communication.
"The personal profiles at iDragRace.com are fully customizable. Members can completely personalize their profile page and every member gets their own address at iDragRace.com" said Nice.
For more information about iDragRace.com visit http://www.idragrace.com
About iDragRace.com:
iDragRace.com is a social networking site designed for drag racers and drag racing enthusiasts.
Contact:
Rob Tuun, Director of Public Relations
http://www.iDragRace.com/rubtuun
###