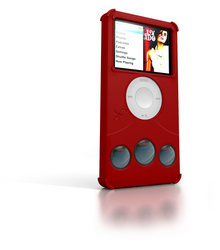 Logan, Utah (PRWEB) February 25, 2008
iFrogz™ announced the release of Audiowrapz, at CES and Macworld where it won two awards for "Best of Show". One from iLounge and one from iProng.
Audiowrapz is currently designed for the 3rd generation iPod nano and will soon be available for the Touch as well. Audiowrapz is a 100% silicone case with a small embedded speaker that maintains a compact, stylish way to listen to your music.
The new Audiowrapz utilizes a passive speaker technology that offers great sound without the bulk of batteries. The iPod simply slides into the core of the speaker case and connects through the headphone jack, extending the length of the iPod about one inch. You get full protection and are able to share your music and videos without ever having to remove the case or plug it into additional speakers.
iLounge had this to say in an extended review of the Audiowrapz; "Though we wouldn't have guessed a year ago that we'd be as excited about such a thing as we actually are, iFrogz' Audiowrapz ($25) does for the third-generation iPod nano what the internal speaker does for the iPhone: it provides a pocket-sized integrated listening device for those times when you've left your earbuds aside. And it goes further, actually, serving as an almost completely protective carrying case for the nano at the same time."
iProng had this to say; "The nano slides into an internal hard plastic sled, connecting to the speakers via the nano's headphone port. We generally prefer that speaker systems connect through the iPod's docking port, but this product is in a whole different category than your typical $100-300 iPod speaker system. In fact, at $25, the audiowrapz costs less than some competing silicone cases that don't have speakers built-in. We had a chance to test the iFrogz prior to its debut, and surprisingly enough, it doesn't chew through the nano's battery life as one might expect - no small feat for a product that doesn't have a battery of its own."
".....It's the kind of product that audiophiles will quickly dismiss, but the general public will love it to death."
The Audiowrapz case has an earphone port at the bottom of the case. You can listen privately to your iPod at any time by simply plugging in your earphones as usual. It is available in a variety of colors including hot pink, neon green, red ruby, jet black, gun metal grey, mint green, aqua blue, pink panther and the popular jet black iFrogz Treadz.
For more information about iFrogz, or to begin designing your own custom iPod case, please visit http://www.ifrogz.com.
About iFrogz
iFrogz™ (http://www.iFrogz.com) develops innovative accessories for the iPod and other consumer electronics. iFrogz iPod accessories utilize unique designs and come in more than a million different combinations, allowing individuals to individualize the look of their iPods as much as their music and video selections are individualized. iFrogz iPod accessories are distributed globally at various retailers and online. A subsidiary of Reminderband Inc., iFrogz launched in March 2006 and is based in Logan, Utah.
###