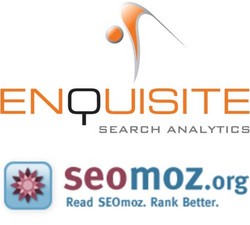 When Rand outlined his need for powerful granular search analytic tools, we knew Enquisite would be a perfect fit
San Mateo, CA (PRWEB) February 25, 2008
Enquisite Search Analytics, a search engine marketing analytics firm based in San Mateo, California, is pleased to announce a relationship with SEOmoz in which Enquisite's premier search analytics services will be available to SEOmoz members through a co-branded website.
With more than 65,000 registered users interested in the search marketing field, the SEOmoz community of webmasters will now have access to Enquisite as an SEO analytics service. Known for its powerful website ranking and performance analytics, Enquisite will work closely with SEOmoz to offer next generation search analytics to meet the search community's growing needs.
SEOmoz CEO Rand Fishkin said, "We've wanted some features that have never been available in visitor analytics packages until now. We collaborated on product strategy to help Enquisite give SEOs what we really need. For example, the long tail report is amazing; totally amazing! It blows all the other search analytics away. Enquisite seriously improves the value of visitor analytics for search marketing campaigns."
Enquisite's search analytics service shows how web pages rank in the search engines under keywords in localized markets around the world. Search Engine Optimization specialists (SEOs) use the analytics suite to discover opportunities for campaign success, and monitor those successes across the board, as well as in highly defined local markets, down to a zip code level.
"When Rand outlined his need for powerful granular search analytic tools, we knew Enquisite would be a perfect fit," says Enquisite's Richard Zwicky. "Enquisite is engineered specifically to provide marketers the in-depth reporting services they need to properly monetize their organic search performance."
Enquisite focuses on analyzing search referral traffic, it provides a clear, precise, easy to read view of which keywords visitors are using, where they are located when they use them, how those keywords draw visitors over time, and how trends evolve over time. Enquisite is the only web page analytics software available to search engine marketers offering such depth and detail. That's what makes Enquisite the choice of search marketing professionals like the community at SEOmoz.
The co-branded website is available to webmasters and search engine marketers through SEOmoz (http://www.seomoz.org/) and through Enquisite. Other organic and paid search marketing analytic products made by Enquisite can be found at the company's website, http://www.enquisite.com/.
About Enquisite
Founded in 2006, Enquisite Search Analytics produces a robust set of website traffic measurement products for organic and pay-per-click search engine marketing. Enquisite Search Analytics developed a ground breaking, patent pending metrics technology that offers an unparalleled view into Internet user behavior.
About SEOmoz
SEOmoz is a global leader in search marketing. The SEOmoz website, including the popular blog, calendar, marketplace and messaging center, serves as a hub for the professional SEO community. SEOmozPRO!, which includes a suite of premium search marketing tools, guides, analytics, and Q&A support, improves and streamlines the work of professional SEOs.
CEOs and CMOs use SEOmozPRO! to improve their search engine rankings, train marketing and SEO teams, test and track their website's SEO performance, as well as locate, contact, and effectively hire and work with outsourced SEO firms.
###