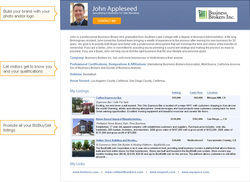 With BrokerWorks Premium, business brokers can list online with greater success than ever
San Francisco, CA (PRWEB) February 25, 2008
BizBuySell -- the Internet's largest marketplace for buying or selling a small business -- announced today that is has launched enhancements to its BrokerWorks service that make it easier for business brokers to list and sell businesses on the site.
These new features allow business brokers to more conveniently manage their online listings, track leads and enhance their presence on the new and improved BizBuySell Broker Directory, the largest business broker directory on the Internet.
-- BrokerWorks Premium --
For the first time, business brokers can ensure top visibility by using BrokerWorks Premium, a new product available to brokers. BrokerWorks Premium provides brokers with a variety of perks, including one Showcase Ad per month -- a $99 value and source of five times more leads than standard ads -- high placement in the new broker directory and an enhanced broker Web site.
BrokerWorks Premium members appear at the top of BizBuySell's broker directory during search results, and are likely to be the first links business buyers and sellers see when searching for a professional to help them with the process. Premium broker listings are also featured above business-for-sale search results when buyers search for businesses in a broker's state. With 700,000 buyers conducting over 1 million searches monthly at BizBuySell, this location is the highest trafficked spot on the site.
In addition, each business for sale listing from a BrokerWorks Premium member features the broker's company Web site link to help build recognition and credibility. The feature allows brokers to focus on specific listings they want to move faster and more heavily advertise businesses to buyers and sellers, which translate to faster deals and more businesses won.
"With BrokerWorks Premium, business brokers can list online with greater success than ever," says BizBuySell General Manager Mike Handelsman. "More than 90 percent of business brokers have used BizBuySell for their transactions, with access to BrokerWorks benefits including unparalleled exposure and access to comparables reports. Now they have the ability to build on those benefits and take their listings to the next level."
-- Improved Broker Directory --
Also included in the new BrokerWorks features is BizBuySell's improved broker directory. The new directory features a brand new look and feel that allows business buyers and sellers to search for business brokers by both state and county without having to scroll through a lengthy list.
All brokers subscribed to BrokerWorks services also now have access to a new, personalized broker directory Web site they can log into and update at any time. Each personal Web site is professionally designed and features its broker's biography, photo and/or logo, expertise, current listings and more. Brokers can even include the link to their personal page on business cards and e-mails to further build reputation and increase visibility.
-- Convenient BrokerWorks Welcome Page --
In addition to broker directory enhancements, BrokerWorks now includes a welcome page that makes it more convenient for brokers to manage listings and leads. The welcome page includes an activity feed section that provides brokers with daily account updates. The page also features a new e-mail leads inbox that gives users access to all leads within the BrokerWorks interface, eliminating the need to search through past e-mails and greatly decreasing the possibility of overlooking or deleting important leads.
About BizBuySell:
BizBuySell is the Internet's largest and most heavily trafficked business for sale marketplace, with more business for sale listings, more unique users, and more search activity than any other service. BizBuySell currently has an inventory of over 50,000 businesses for sale, and more than 680,000 monthly visits. BizBuySell also has one of the largest databases of sale comparables for recently sold businesses and one of the industry's leading franchise directories.
BizBuySell was founded in 1996 and acquired in 2004 by LoopNet, Inc. LoopNet operates the largest commercial real estate listing service online, with more than $475 billion of property listed for sale and 4 billion square feet of space for lease. With over 2.5 million members, LoopNet attracts the Internet's largest community of commercial real estate professionals. Please visit http://www.bizbuysell.com.
# # #