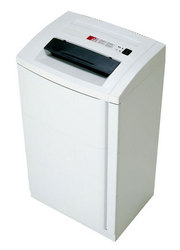 Kaysville, Utah (PRWEB) February 25, 2008
Paper shredders, now considered an absolute necessity for identity protection, are now commonly used among most businesses and many individuals. It is now considered just as important to destroy digital information stored on disks / DVDs and old ID badges and credit cards. Office Zone now has a line of shredders that can take care of all your document destruction needs.
Most businesses are required by law to shred documents. This is due in part to common sense and also the implementation of such laws as the Fair and Accurate Credit Transactions Act (FACTA) and the Health Insurance Portability and Accountability Act (HIPAA). These laws, now in effect, require that all customer, patient and individual information be properly destroyed. These laws not only require that paper be destroyed, but that data on disks be destroyed as well.
Traditionally DVDs, CDs and floppy disks were thrown into a garbage can for disposal. Many people didn't consider the fact that a single CD or DVD can hold thousands of pages worth of sensitive information. These disks can be pulled from a garbage can by a would-be thief and be easily read from another computer. Even disks using high-security encryption can be read by the right people.
Office Zone now has an entire line of document shredders designed to destroy disks. This new line of paper shredders, often referred to as multimedia or disk shredders, have specially hardened blades capable of chewing through just about anything. Many of these new shredders include separate slots for disks and credit cards.
These new shredders are often capable of shredding PVC cards as well. These cards are used for credit cards and employee ID badges, both of which should never fall into thieves' hands. Once run through a media shredder, these cards will never be used by anyone again.
As the demand for paper shredders and document destruction continue, Office Zone plans on adding shredders to meet these needs. Office Zone expects as thieves discover new ways to steal identities, new shredders will continue to be needed to combat this evolving problem. For more information on Office Zone's new line of disk shredders, you may contact Morgan Cloward, Director of Marketing and Sales, at 1-800-543-5454.
# # #