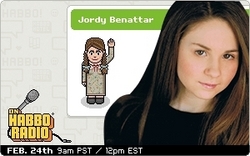 Los Angeles, CA (PRWEB) February 23, 2008
Habbo (http://www.habbo.com), the leading global online virtual world for teenagers, today announced that Jordy Benattar, co-star of The Spiderwick Chronicles, will check into the U.S. and Canada communities for a meet-and-greet with fans.
The talented 14-year-old will visit the Habbo Theaterdomes in both Habbo.com and Habbo.ca on Sunday, February 24 at 9 a.m. (PST)/noon (EST). Fans are invited to hang out with Benattar, ask questions about her character, Young Lucinda, and learn about the fun she had filming the adventure fantasy.
For the opportunity to meet Benattar, log in to Habbo or join for free by going to http://www.habbo.com or http://www.habbo.ca and clicking on the "Register" button. To hear the exclusive live discussion with famed Habbo DJs, Whimsy and RubbeeRED, tune into Habbo's Internet Radio Stream, Habbo Radio (http://www.habbo.com/community/celebrity_visits/81-habbo-radio).
About Jordy Benattar
Jordy Benattar began her acting career at age 5 with an appearance on the television series Twice in a Lifetime (PAX). Since then, she has emerged as a versatile performer, appearing in a variety of television films, including A Very Married Christmas (CBS), What Makes a Family (Lifetime) and Fallen Angel (Hallmark). Recently, Benattar received critical praise for her sensitive portrayal of a grief-stricken granddaughter in Charlie and Me, (Hallmark). Her latest film, The Spiderwick Chronicles (Paramount), is in theaters now.
About Habbo
Habbo is a richly colorful, multi-dimensional virtual community and game environment for teens. Users join by creating a fully customized online character called a Habbo. From there, they can explore many public hang-outs, play a variety of games, connect with friends, decorate their own rooms, and have fun through creativity and self expression. Currently there are Habbo communities in 31 countries on five continents. To date, more than 89 million Habbo characters have been created and 8.3 million unique users worldwide visit Habbo each month (source: Google Analytics). Habbo is operated by Sulake Corporation, a Finnish online entertainment company. http://www.habbo.com
Habbo press images: http://www.sulake.com/press/image_bank
Contact Information
Erik Fairleigh
Edelman Public Relations
323-202-1026
Susan Mills
Edelman Public Relations
323-202-1050
# # #