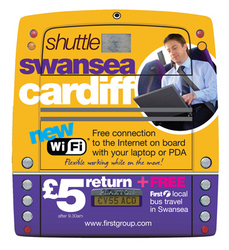 We are delighted that FirstGroup have chosen Moovera for their pioneering roll-out in Wales
Sittingbourne, UK (PRWEB) February 25, 2008
Moovera Networks, a leading developer of fixed and mobile wireless access systems, today announced that FirstGroup plc has chosen technology from Moovera to provide broadband Internet connectivity and GPS-based vehicle tracking on bus routes in Wales. First Cymru has equipped the Shuttle100 fleet running between Swansea and Cardiff with the Moovbox M100 mobile broadband gateway from Moovera, which provides Wi-Fi Internet access to passengers at broadband speeds up to 1.8Mbps throughout the journey, and real-time GPS-based tracking for vehicle location and schedule adherence monitoring.
Justin Davies, Managing Director at First Cymru, said: "With the launch of in-bus broadband on the Shuttle100 service, First Cymru has become the first operator in Wales to adopt the technology across a dedicated route and fleet of coaches. Our investment in Moovera's industry-proven system demonstrates our commitment to continually improving our services and passengers facilities. Our customers can now make the best use of their time by browsing the web and checking email; at the same time we have better visibility of our fleet deployment using the real-time vehicle tracking that the Moovbox brings us."
The hour-long Shuttle100 service runs for forty two miles along the M4 motorway between the two cities up to sixteen times per day and is popular with commuters traveling to and from work. The Moovbox M100 delivers Wi-Fi Internet service to passengers in conjunction with the next-generation 3G HSPA (High Speed Packet Access) mobile broadband network from Vodafone UK. In the first few weeks since its launch in late January the Wi-Fi service has been used hundreds of times by passengers with an average online session length of over half an hour. Leveraging the built-in GPS receiver of the Moovbox First Cymru can monitor the exact position of the fleet's vehicles in real time and assess the usage of the Wi-Fi service via MoovManage, Moovera's secure online management service.
"We are delighted that FirstGroup have chosen Moovera for their pioneering roll-out in Wales," said Jim Baker, CEO and founder of Moovera Networks. "On-board Internet access is becoming an increasingly important feature of commuter services on bus, coach, train and ferry routes - not just for passenger-oriented Wi-Fi hotspots but also for real-time telematics, GPS and CCTV applications that require secure high-speed links across the Internet to the operator's back office systems. FirstGroup are setting the pace that other operators must undoubtedly follow."
The Moovbox mobile gateway is a ruggedized Wi-Fi access point and cellular router, offering multiple wide area network (WAN) radios for automatic failover between carriers, and features built-in GPS for real-time positioning. Moovbox products also offer secure Ethernet for IP-CCTV, DVR and telematics equipment with remote in-bound access for device control. The multi-user MoovManage service provides real-time vehicle tracking, schedule adherence monitoring, remote device configuration, and Wi-Fi portal and usage statistics. More information is available online at http://www.moovera.com.
About Moovera Networks
Based in the United Kingdom, Moovera Networks is a privately-held manufacturer of industrial-grade fixed, mobile and portable wireless communications products that bridge Wi-Fi access with carrier-class networks including 3G UMTS/HSPA, WiMAX, TD-CDMA, HC-SDMA and FLASH-OFDM. Applications include commercial hotspots, city-wide municipal and in-vehicle wireless, public safety, construction, events, and secure corporate communications. Customers include national telcos and mobile carriers, local government and public safety authorities, ISPs, systems integrators and transport operators around the world.
About FirstGroup plc
FirstGroup plc is the world's leading transport company with revenues of over £5 billion a year, employing over 135,000 staff throughout the UK and North America and transporting more than 2.5 billion passengers a year. FirstGroup is Britain's largest bus operator running more than one in five of all local bus services. A fleet of nearly 9,000 buses carries 3 million passengers a day in more than 40 major towns and cities.
###