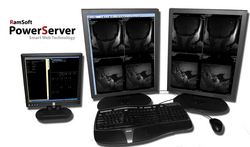 Top 20 Year-End Best in KLAS Awards
Orlando, FL (PRWEB) February 25, 2008
At the HIMSS conference, RamSoft announced the release of PowerServer Lite, an entry-level version of its web-based PowerServer PACS starting at $14,000. This economical PACS system is meant to accommodate the financial crunch facing imaging facilities in the post-DRA world; without compromising reliability or usability.
"This new offering provides budget conscious facilities with an alternative choice for high-quality PACS," says Vijay Ramanathan, President and CEO, RamSoft. "Our main goal is to bring reliable PACS to every facility; no matter the size or budgetary restrictions."
How RamSoft delivers a robust, reliable web-based PACS at a low price:
Sticking to the essentials.
PowerServer Lite remains faithful to what a web-based PACS should do; and does it consistently and reliably. It is designed for facilities that need a fully functional PACS but don't require all the added features of a higher-end system. PowerServer Lite is also standards compliant to HL7, DICOM and HIPAA, which means you are able to easily integrate our system into your existing healthcare IT infrastructure.
Rapid, remote deployment and installation.
A PACS deployment doesn't have to be slow and expensive. Innovations in remote deployment technologies have allowed installations to be efficient and headache-free. Yet, many PACS vendors still insist having onsite staff for their deployments; overlooking remote technologies and ultimately raising your costs. RamSoft on the other hand, has embraced these technologies and integrated them in every facet of their deployment process. This means that your facility can "go live" in a short period of time without RamSoft specialists ever setting foot onsite.
eLearning classrooms and interactive training material
The technology a facility invests in is only as effective as the trained staff using it. RamSoft's unique online training program is a cost-efficient model for facilities to train staff without the costs of bringing a trainer onsite. It allows qualified RamSoft instructors located anywhere in the world to bring your employees up to speed and using PowerServer Lite right away. After the eLearning training sessions, facility staff has access to a library of self-paced interactive training seminars that they can use to review basic features, or upgrade their skills by learning the advanced functions of PowerServer Lite.
Single coherent solution.
Often low-cost PACS solutions are built out of "bits and pieces" of various technologies. These "patchwork" systems don't provide the level of reliability, maintainability, and usability that today's medical imaging centers demand. In contrast, PowerServer Lite is a streamlined PACS server application that runs on a single server and database; a smart and simple solution that has proven to be a success story not just for RamSoft, but for its clients as well.
The benefits of PowerServer Lite:
Unlimited freedom.
The licensing model behind PowerServer Lite enables users to install clinical workstations on any number of machines and allows for an unlimited number of users. This frees staff from the inconvenience of buying user licenses every time a facility grows.
100% web-based accessibility.
PowerServer Lite is completely web-based and accessible from anywhere with an internet connection. Because it utilizes RamSoft's proprietary bandwidth load distribution and study push technology, readings can be performed with no latency or wait periods.
Flexibility and scalability
An important aspect of this economical PowerServer Lite is that facilities are never locked into this entry-level solution. When a facility reaches a threshold where a more feature-rich PACS system is required, PowerServer Lite's unique upgrade path allows for quick and seamless transition to RamSoft's PowerServer PACS or PowerServer RIS/PACS solutions.
Worry-free maintenance.
Once deployed, PowerServer Lite is self-maintaining and does not require IT staff to regularly monitor or actively perform maintenance tasks. Should any issues arise, the responsive RamSoft customer support team is always there just a click away.
Proven heritage.
Entry-level does not mean lower quality. PowerServer Lite is built off of the same platform as our market-leading PowerServer PACS solution. This mean that facilities the same core technology that has consistently placed RamSoft in the top rankings in the annual "Top 20 Year-End Best in KLAS Awards".
About RamSoft
RamSoft has been developing quality medical imaging software since 1994. RamSoft provides a range of RIS/PACS services and solutions to various parts of the imaging marketplace; specializing in ambulatory, acute, and teleradiology segments.
# # #