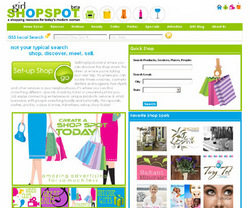 The idea came to me as a result of the desire to help stay-at home mothers build business for their products or services, and the exasperating experience with a now very convoluted and expensive online marketing environment.
St. Louis, MO (PRWEB) February 28, 2008
Just launched, GirlShopSpot.com is a new web site created by a woman for women. This new site, from Christine Van Buskirk of SeeVacationRentals.com, delivers an ultimate one-stop shopping resource for those who want a streamlined connection to local products and services tailored to women -- a purchasing powerhouse. By 2010 women will control more than half of private U.S. wealth -- about $14 trillion.
GirlShopSpot.com is not a typical product search, nor the classic array of social shopping sites. GirlShopSpot.com is introducing Commerce by Community™, the mission of which is to support the success of emerging as well as established businesses catering to women, by providing smoother, smarter, and more direct communications between their businesses and buyers. GirlShopSpot.com is a highly affordable and effective marketing community for small businesses to attract customers and streamline e-commerce. Buyers can discover and come directly in contact with new places, people, products, and services they never new about, with the possibility of these businesses being located in their local neighborhood.
Advertiser shop spots come with built-in Search Engine Optimization, user and merchant generated interactive multimedia web pages, direct links to purchase products and services, merchant controlled reviews/rates/stats management tools and a shop spot community referrals program. GirlShopSpot.com and its Commerce by Community™ is simply the next generation of online shopping and socializing made to keep up with the future needs of today's modern woman.
Free to visitors, GirlShopSpot.com is designed for women who don't have time or energy to search in circles for the products and services they need or want. It's where they can find sources of imagery, videos, reviews and information for items like organic products from cosmetics to home cleaners; baby clothes and furniture; dentists to yoga instructors; original art; life and business coaches, with more products and services coming online all the time. GirlShopSpot.com's goal is to allow shoppers to find what they need nearby, like local boutiques, restaurants, and cafes, to what they want from anywhere.
"I wanted to provide a site that would deliver a truly unique, straightforward, localized, and fun online shopping experience for women, while providing an inexpensive marketing resource for cottage businesses," says Founder Christine Van Buskirk. "The idea came to me as a result of the desire to help stay-at home mothers build business for their products or services, and the exasperating experience with a now very convoluted and expensive online marketing environment." From there the concept quickly expanded to all retail operations catering to women, including brick and mortar shops.
For a fee of $25.00 for six months, $40.00 for a year, and $65.00 for two years, sellers get a very attractive and super easy to use template, along with an intuitive Search Engine Optimization set-up tool. Beyond that, sellers will receive very personal service, including hands-on assistance, general marketing and sales advice via site blog, direct customer inquiries; instant customer reviews notification and management tools, with more features always in the works.
Word is out on GirlShopSpot.com. The owner of Radiant Minerals has this to say on Merchant Moms. "So, the owner of Girl Shop Spot contacted me and introduced me to her cool site. Check it out. You can list a bunch of your products, reviews and more all for $25.00 for six months. And they are so nice over there. If you have any questions at all, they help right away. They even sent me a Thank you note. I like customer service like that. Check it out ladies. Make sure you tell them Radiant Minerals sent you."
As far as the technology behind GirlShopSpot.com, the site was built to accommodate expansive growth while continuing to allow easy access to and for all sellers, by way of a selection of search options and keywords. Meanwhile, Search Engine Optimization is incorporated organically, more effectively, and for far less than retailers currently pay for pay-per-click or other current paid Search Engine Optimization or Search Engine Marketing options.
The mission for Girl Shop Spot is three-fold: Make it easy for women to find what they need and want; make it easy for sellers to establish a web presence where they are found in order to create a direct line of communication with their buyers; and make the overall experience enjoyable for all. True Commerce by Community™.
Visit http://www.GirlShopSpot.com for more information.
About GirlShopSpot.com:
GirlShopSpot.com is an online shopping resource for today's modern woman created by a woman who, like many others, is a business person, wife, and mother. The site is designed to be an online one-stop resource for finding a range of products as well as local personal services from hair salons and spas to life coaches, to restaurants and bakeries, and much more. Most importantly, the site promotes the growth of cottage businesses by providing a well-designed, easy-to-use, technically sound, and affordable online marketing platform.
PR Contact:
Ardith Lowell
MCTT for Girl Shop Spot
solutions @ mcthinktank.net
208-284-7266
###