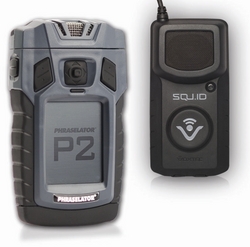 Restoring order in chaotic situations requires carefully-worded communication that can be understood by everyone within earshot
Annapolis, MD (Vocus) February 25, 2008
Voxtec International, Inc. (Voxtec), developer of the world's most trusted language translation devices, announced today that the Los Angeles Police Department (LAPD) has purchased the company's Phraselator® P2 devices and Module Builder PRO™ software to provide its officers with powerful one-way, machine-based translation capabilities.
"With more than 260 languages spoken in the Los Angeles area, a human translator can't be present in every situation requiring communication with someone with limited English proficiency," said Sergeant Eric Lee of the LAPD. "While the Phraselators do not replace a human translator, these devices can be a lifesaver."
The purchases exemplify the Department's proactive efforts to improve its management of crowd control situations. Last May, language and communication breakdowns between officers and civilians after a demonstration in the city's MacArthur Park resulted in dozens of injuries. As part of its improved crowd control procedures, the Department has also purchased all-terrain vehicles equipped with MAD™ full-range speakers to broadcast translated phrases from its Phraselators in dozens of languages.
"Restoring order in chaotic situations requires carefully-worded communication that can be understood by everyone within earshot," said Sergeant Lee. "When attached to MAD technology, we can program the Phraselators to project phrases such as 'We are here to facilitate your First Amendment rights', repeated in several languages, up to half a mile away."
The purchase agreement was facilitated by Voxtec's distributor, Aardvark Tactical, Inc. (ATI). Azusa, CA-based ATI is one of the largest suppliers of nonlethal weapons, riot control, force protection, and tactical equipment in the United States.
"Voxtec products have successfully supported the critical communication needs of our military customers serving overseas for several years now," said ATI President Jon Becker. "Not every product can transition from military application to law enforcement integration, but Voxtec's can. We are excited about distributing Voxtec's products and services domestically within the law enforcement community."
In addition to purchasing the Phraselators, the LAPD also purchased Voxtec's Module Builder PRO software, which will allow the Department to create its own set of customized phrases using trusted human translators and install them on the Phraselator devices. LAPD representatives said the Department will use the software to expand its library of crowd control phrases, as well as for situations such as prison inmate procedures, field sobriety test administration and routine traffic stops.
"The power to customize the devices ourselves is a very important feature," said Sergeant Lee. "The more we use the Phraselators, the more we identify additional situations where they can improve our communication and overall level of service."
LAPD Deputy Chief Mike Hillmann noted that the Phraselators have already demonstrated their value to the Department.
"The ability for public safety agencies to communicate with various cultures is critical," said Hillmann. "The Phraselator has been useful in assisting with crowd management operations."
John T. Hall, President of Voxtec, said the LAPD's use of the Phraselator translation devices and Module Builder PRO software signifies a growing trend of law enforcement departments taking action to improve communication with non English-speaking citizens.
"Immigration has brought together a vast number of languages and cultures across the country," said Hall. "As law enforcement departments endeavor to effectively serve and protect these diverse communities, they're recognizing how machine-based translation technology can be a huge help. Voxtec devices have saved lives in crisis situations around the world; we believe they can do the same here in the hands of law enforcement officers."
About Voxtec International:
Voxtec specializes in efficient, tactical machine-based translation solutions. Voxtec produces speech-to-speech translation device products, both handheld and wearable. Voxtec's products are already in use worldwide by U.S. Military, Coalition Forces, and First Responders. As a pioneer in the field, Voxtec is steadfast in its practical approach, while engaging in intensive research and development to discover and bring to market customer solutions. Voxtec creates world-class products through its commitment to advancing voice technology.
About Aardvark Tactical:
Founded in 1987, Aardvark Tactical, Inc. (ATI) is one of the largest suppliers of nonlethal weapons, riot control, force protection, and tactical equipment in the United States. ATI's core business runs the gamut from simple distribution of products for police officers to complicated military system integration projects going to hundreds of destinations. In its 21 year history, ATI has provided equipment and training to literally thousands of military and civilian law enforcement units all over the world and has participated on some level in all of the significant military and police operations in recent history.
Press Inquiries:
Dave Clossey
Abel Communications for Voxtec
Phone: (410) 466-0049
###