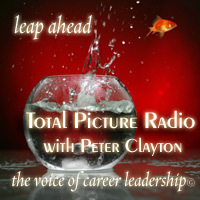 The purpose of any interview is not to get a job -- it's to get the next meeting. You are on stage. It's a performance! And, you must be prepared.
New York, NY (PRWEB) February 26, 2008
In an exclusive 36 minute "Career Transitions" interview with Peter Clayton on Total Picture Radio, recruiting industry veteran Beth Ross provides a wealth of interview training information, resume tips, and insider advice.
Dr. Ross told Mr. Clayton, the host and producer of the popular career advice podcast, "The purpose of any interview is not to get a job -- it's to get the next meeting. You are on stage. It's a performance! And, you must be prepared." When asked to provide advice on the contracting U.S. job market, Ross commented, "there are still "good jobs out there for talented professionals. Your strategy should be to become an insider within the organization you're interviewing with. You can do this with all of the tremendous resources available on the Internet. Your goal should be to know everything you can about the company, its competitors, leaders, and challenges. That's how you become an insider, able to transition to a new industry, or new career."
Here are a few job interview insider tips from Beth Ross:
An interview is a performance. You prepare just as if you are going on stage, knowing your lines and having a clear strategy for winning.
Basic interviewing technique includes:
Developing your lines. In an interview, an inability to express yourself clearly is worse than a lack of experience.
Have a small notebook with you, (or use 3 x 5 index cards), and have written down:
The main reason the employer would want to hire you;
What you have to offer in the way of experience, credentials, and personality;
Two key accomplishments to support your interest in this position
An answer to what you think might be the employer's main objection to you, if any;
A statement of why you would want to work for this company.
A new twist for Beth Ross is consulting with college-bound students to help them prepare for admissions interviews. "You can be brilliant, a straight-A student and extremely accomplished," she told Peter Clayton, "However, at the top-tier schools such as Harvard, Yale, Stamford, Princeton, and the 'Seven Sisters,' the competition is so intense, that you will have to go through a series of admissions interviews that will determine if you get that acceptance letter."
About Beth Ross
Beth Ross is a certified Executive Career Coach, maintaining a private coaching practice and working with clients in the areas of Career Transition Services, Resume Writing Services, Interview Training, Assessment, Targeting, Salary Negotiations, and all parts of the Job Search Process. Her client base is national in scope, with teleconferencing and email sessions available, although she is based in New York.
In addition to being an Executive Career Coach, Beth Ross is also an Executive Career Search professional with over twenty years experience, including time with prominent national retained executive search firms. Since 1989, she has been a sole proprietor.
About Total Picture Radio
Total Picture Radio is a career empowerment service for knowledge workers. We are committed to sharing ideas and commentary from thought leaders in business, strategy, marketing, career management, media, and the Internet. TPR podcasts actionable information for high-performance careerists - and business leaders creating talent-focused organizations. Our in-depth interviews include best-selling authors, senior executives, visionaries, leadership coaches, and entrepreneurs. Total Picture Radio is "The Voice of Career Leadership." Sponsorship opportunities are available.
###