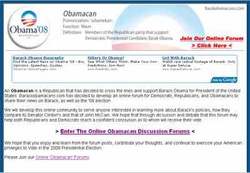 The idea that people with generally Republican views are supporting Obama, the 'Obamacans,' gave me the idea for the theme of the site
Evergreen, CO (PRWEB) February 26, 2008
The heated primary season, and the difficulty many people are having when trying to find objective information on the policies of both Republican and Democratic candidates, have inspired the creation of a new Web site. BarackObamacans.com, inspired by a nickname for Republican supporters of Democratic candidate Barack Obama, is a new online forum community for people new to political debate to learn and discuss the policies of today's presidential candidates on all sides of the political spectrum.
According to the Web site, an Obamacan is a member of the Republican Party that supports the Democratic, progressive candidate. These "Republicans for Obama" have decided to cross the lines, many making their decision based on Obama's ability to inspire individuals with a message of change, and a movement away from the divisive partisan politics of the past.
"The idea that people with generally Republican views are supporting Obama, the 'Obamacans,' gave me the idea for the theme of the site," said site creator Dan Kennedy. "This isn't necessarily a pro Barack Obama Web site, but more built on the fact that it is possible to unite the parties towards common goals that are important to our country." The target audience is not only those who support Barack Obama. Web site users currently contributing to the forums come from all sides of the political spectrum.
The site offers objective summaries of candidates' policies, as well as the ability to discuss those policies. Users of the BarackObamacans.com forums are encouraged to express their opinions, debate, and contribute in a positive manner. As such, it is a useful reference for both experienced voters and those unfamiliar with the candidates, policies, and processes of the primary elections.
Kennedy added, "I found myself drawn to this year's election process for the first time, and had difficulty finding objective information about the candidates and their policies. I wanted to start a forum where the post begins with a basic description of the candidate policies and allow people to talk about it from there."
To learn more about Republicans for Obama, the increased turnout of new and younger voters in this primary season, and more, visit BarackObamacans.com.
About BarackObamacans.com:
BarackObamacans.com is a new, non-partisan Web site designed to create a community of helpful and hopeful political debate online. Offering objective summaries of candidate policies, with commentary from all ends of the political spectrum, it is not a pro Barack Obama Web site, but a home online for those who believe the parties should be united towards the country's important common goals.
###