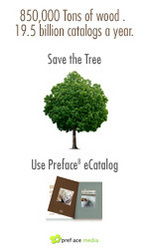 We continue to find more ways to enhance interactive user experience for our Preface8 solutions
Dallas (PRWEB) February 27, 2008
Preface Media (http://www.PrefaceMedia.com)], developer and host of rich media Web applications, introduces new features for both Preface8 eCatalog and ePages solutions that include:
Embedded Flash video or animation. Publishers can now add Flash video or animation to the digital publication pages; online users can view a short introduction of the company or even a product commercial. This provides a powerful new way of enhancing the multimedia experience and drawing attention to the published materials.
Customizable skins. Publishers, manufactures and retailers spend thousand and thousands of dollars promoting their brands. Preface Media can now custom design new digital publications to match existing brand look and feel. You online users will feel right at home. Preface Media can also globalize your eCatalog into a multilingual publication.
Music. Preface8 eCatalog and ePages can now include digital soundtrack or a narrative introduction to greet online viewers upon launching the publication.
SQL Powered search in eCatalog and ePages. Preface8 platform is now powered by industrial strength SQL database with robust search logarithm to allow the users quickly find exactly what they are looking for in the digital publications.
Integration of Preface8 solutions into Content Management Systems such as osCommerce webshop, Mambo CMS, TYpo3, Zope, Joomla CMS, and Drupal.
"We continue to find more ways to enhance interactive user experience for our Preface8 solutions," said Mike Sokoryansky, Chief Solutions Architect. "We are excited to announce these new features that will help cement our lead on the competition and once again demonstrate the stunning user interface and robust functionality of our Preface8 rich media platform."
To find out more about Preface8 solutions, and see samples, go to http://www.prefacemedia.com/demos.php
About Preface Media, Inc.
Preface Media Inc. provides client care, technical expertise, creativity, and integrity for Web applications. We develop and host custom dynamic Web content solutions that seamlessly integrate into your existing infrastructure and bring your business to life online. The Preface8 platform offers robust architecture for flash enabled catalogs, digital publications, virtual 3D presentations and rich media solutions. With experienced consultants and employees throughout the USA and Asia, Preface Media provides businesses with state-of-the-art knowledge and a full range of creative services.
CONTACT:
Sam Chakravarty
Preface Media, Inc.
Tel: 972.424.0694
Fax: 866.616.9556
Email: media @ prefacemedia.com
Web Site: http://www.PrefaceMedia.com
###