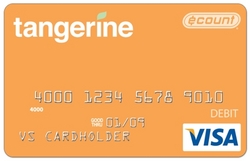 Companies initiating wellness and disease management programs need a highly popular and effective incentive
Boston (PRWEB) February 26, 2008
Tangerine Wellness, the first incentive-based corporate wellness program that reduces the cost of healthcare for employers, has selected Ecount, a Citi company and a leading provider of corporate prepaid programs to offer co-branded prepaid debit cards to employees who participate in the Tangerine Wellness program.
"Our customers already enjoy lower healthcare costs and we wanted to improve the way in which cash rewards for employees are disbursed," said Aaron Day CEO and Chairman of Tangerine Wellness. "Since our program rewards participants for weight loss and maintenance, a prepaid debit card, branded with the employer's name, was the next natural step."
The Tangerine Wellness program, which is a non-prescriptive approach to weight-loss and health improvement, focuses on the idea that a single wellness program will not necessarily work for everyone. Using Tangerine, employees earn cash and other rewards for losing and maintaining weight. Employers lower healthcare costs, improve morale and productivity through Tangerine's customized, fully outsourced program that includes a suite of online and offline services. By offering cumulative rewards, and allowing participants to track their results online, Tangerine keeps the program interesting and easy for its participants.
Tangerine customer, A. O. Smith Corporation (NYSE:AOS), one of the world's leading manufacturers and marketers of residential and commercial water heating equipment and electric motors, will be among the first Tangerine Wellness customers to use the new debit cards.
"We decided to use the cards primarily because they are convenient, rechargeable, and serve as a visible program reminder. The orange debit card is evidence of employees' progress and will also be a reminder to them of their continued goal to lose the weight and keep it off," said Mark Petrarca, senior vice president-human resources and public affairs of A. O. Smith.
As more companies are looking to positive incentive-based wellness programs that reward employees for changing behaviors, like weight management, the cash incentive can be burdensome for some employers who have to deal with the cost and time involved in processing checks.
"Companies initiating wellness and disease management programs need a highly popular and effective incentive," said Matt Gillin, CEO of Ecount, a Citi company. "The Ecount Healthcare Solution provides the most popular incentive - cash - in a tangible, memorable and highly visible form, that both companies and employees love. Our branded prepaid cards simply and effectively deliver incentive payments for one-time or ongoing rewards - and the results employers see are terrific - higher participation, retention and a healthier population."
For more information about the Tangerine Wellness Program, please visit http://www.tangerine wellness.com
About Tangerine Wellness
Founded in 2004, Tangerine Wellness is the leading corporate weight-management program that directly rewards employees for losing weight and for maintaining a healthy weight. Tangerine's interactive weight-loss program has a direct and positive effect on employee healthcare costs, morale and productivity. Tangerine has successfully implemented programs in the manufacturing, financial services, healthcare and government/university entities that are translating into direct healthcare cost-savings. The company's collective leadership includes Sen. Bill Bradley and top executives with expertise in corporate wellness, healthcare and benefits administration. Tangerine is headquartered in Boston, with offices in Chicago, Houston and New York. Go to http://www.tangerinewellness.com for further information.
About Ecount
Ecount, a Citi company, provides customized prepaid programs for corporations looking for a simple, convenient and cost effective way to deliver payments. Leveraging Citi's extensive payment platform and Ecount's experience and proprietary prepaid technology, corporations have access to an unmatched solution that enables comprehensive communication and unique brand extension, coupled with more immediate, economical payment delivery. With solutions ranging from incentives to compensation to specialized rewards, Ecount programs empower corporations looking to influence and motivate consumers, employees and partners. Over 1,200 leading corporations, including more than one third of the Fortune 100, rely on Ecount's prepaid solutions to gain a strategic market advantage. For more information, please visit http://www.ecount.com.
###