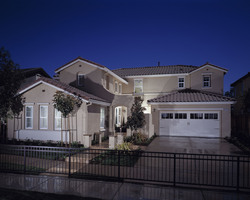 In the current housing slump, even the most well-regarded, high-quality builders have standing inventory that they want to sell in the fastest manner
Newport Beach, CA (PRWEB) February 26, 2008
The California Central Valley has recently been called "ground zero" of the country's current subprime loan crisis and the "foreclosure capital of America," resulting in dozens of foreclosure auctions. But buying a foreclosed home can be risky. You may be getting more than you bargained for because of the dubious "as is" state of foreclosed homes. Fortunately, for buyers in the current housing market, deals can be found on brand-new homes as well!
The LFC Group of Companies, the nation's premier online real estate auction marketing firm, has recently launched an online auction of more than 60 new, never-lived-in homes located in several Central Valley cities, on their website, Freedom Realty Exchange (http://www.FRE.com/193R3). The online auction includes 15 homes in Gridley, a quaint community between Chico and Yuba City; 18 homes in Lathrop, a short commute from the San Francisco Bay Area; and a total of 29 homes in Madera and Kerman, quiet suburbs just outside of Fresno.
The spacious homes feature three to five bedrooms and two to four bathrooms, and range from approximately 2,000 sq. ft. to 3,500 sq. ft. Many of these beautifully crafted homes include attractive features like hardwood floors, granite countertops, central air conditioning, energy efficient windows, recessed lighting and walk-in closets. Though originally priced at an average of approximately $500,000, these homes will be offered through FRE.com with minimum bids as low as $140,000. Also included in the online auction are numerous model homes with minimum bids starting at only $1, which are being sold absolute, to the highest bidder- regardless of price.
"In the current housing slump, even the most well-regarded, high-quality builders have standing inventory that they want to sell in the fastest manner," comments Bill Lange, president of the LFC Group of Companies. "Not only are auctions the most effective way for sellers to market real estate, but our online auctions are the most convenient way for buyers to purchase a home. Rather than having to waste an entire day in a crowded, chaotic hotel ballroom or convention center, buyers can simply logon to the Freedom Realty Exchange website, review detailed property documents, visit the home in their own time and then place a bid from the comfort and privacy of their own computer. It's that easy."
So if you've been looking to purchase a new California home, there's no need to waste your time at a foreclosure auction. Why not buy a brand-new, gorgeous home via the Internet? The bid deadline is Thursday, April 10, 2008. For more information and to register to participate in the online auction, go to http://www.FRE.com/193R3.
Freedom Realty Exchange - part of the LFC Group of Companies
For more than 30 years, the LFC Group of Companies have served numerous Fortunate 500 companies, real estate developers, investors, financial institutions and government agencies by auction-marketing thousands of commercial, industrial, land and residential properties with an aggregate value well in excess of $5 billion. http://www.FRE.com
###