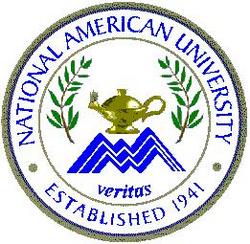 I've wanted to get my college degree for a long time, but I had several concerns. I couldn't afford to stop working, and my schedule was already hectic. I chose NAU, because the staff is very accessible, and I can keep earning an income. It feels so good to finally be doing this
Austin, TX (PRWEB) February 26, 2008
National American University (NAU), a fully accredited, four-year university with bachelor's, associate and master's level degrees, is working to reduce the barriers between higher education and the Hispanic community in Austin. By offering flexible, new programs like Applied Management, traditional obstacles are being replaced with a fresh, alternative approach towards getting a college degree.
Statistics show that only 13 percent of Hispanic Texans have an associates degree or higher. Common barriers to getting a college degree include the need to maintain employment for income, family responsibilities and scheduling conflicts. Additionally, as a majority-minority state, low enrollment in higher education among Hispanic Texans will impact all Texans. Lower education can result in reduced income, fewer job opportunities and lower quality care for families.
NAU is seeking to remove the barriers to higher education through flexibility and personal attention. "Austinites are fortunate, because they are surrounded by quality educational institutions. That said, NAU has the history and experience as a higher education institution to know that some populations are still not being served by traditional college options. By opening our new campus and offering the type of flexible programs we do, we're going to give more people the ability to earn their college degree and create a better life for their family," stated J.P. Foley, Regional Vice President of National American University.
According to the Pew Hispanic Center based in Washington, D.C., many Latinos attempt to get their college degree but drop out before finishing. Encouragement is especially essential in keeping students enrolled who have a lot of outside responsibilities. At NAU, student support begins at registration. Each student has a personal Career Coach to help with the enrollment process, filling out required forms and to assist in transferring credits. This level of personal attention alleviates anxiety and moves students through the enrollment process easily so they can focus on their courses.
"I've wanted to get my college degree for a long time, but I had several concerns. I couldn't afford to stop working, and my schedule was already hectic. I chose NAU, because the staff is very accessible, and I can keep earning an income. It feels so good to finally be doing this," stated Michael Leising.
National American University is changing the educational landscape with its fresh perspective. Austin students are able to take their courses in the classroom or online, reducing schedule conflicts. The flexibility of the degree programs also makes it easier to plan schoolwork around students' lives, rather than the other way around. Further, NAU students are able to continue their careers while simultaneously attending college.
Utilizing the Applied Management program, students are even turning their workplace experience into educational credit. Today, with military and civil service servants investing extensive hours in career training, the Applied Management program can reduce the time and financial commitments involved in obtaining a college degree by converting the experience into college hours.
National American University recently launched their first classes in Austin. NAU is already attracting the attention of many Austinites, including Hispanic working professionals and stay-at-home parents who have long seen the value in having their college degree but felt overwhelmed by the traditional commitment and requirements of going back to school.
With 66 years of academic expertise, National American University holds equivalent accreditation standards as state universities like The University of Texas at Austin or Texas A&M, which are members of the Southern Association of Colleges and Schools. With its first campus and central administrative offices located in South Dakota, NAU is also regionally accredited by the Higher Learning Commission and a member of the North Central Association of Colleges and Schools.
About National American University (NAU):
National American University (NAU) is a fully accredited, four-year university granting degrees on the bachelor's, associate and master's level. NAU's mission is to assist non-traditional students in earning their degrees within the accountability of a private, for- profit educational setting.
For specifics on the Austin campus and registration, call Steve Anthens (512) 745-7022 or visit http://www.nauaustin.com.
For more information on National American University nationally, please visit http://www.national.edu.
###