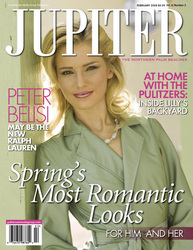 Palm Beach, FL (PRWEB) February 26, 2008
Peter Belisi, founder and president of Belisi Fashions, was dubbed the next Ralph Lauren by Jupiter Magazine. In the February 2008 issue, Peter Belisi was interviewed by Christie Caliendo about his approach to business, life, and, of course, fashion.
Like his predecessor Ralph Lauren, Belisi had an eye for fashion from a young age. Growing up in Fort Lauderdale, Florida, Belisi was inspired by the quality fabrics and high-end fashion that surrounded him. Similar to Polo mogul Ralph Lauren, Peter Belisi always exhibited an entrepreneurial spirit. While Lauren set his sights on becoming a millionaire early on (as noted under his high school yearbook photo), Belisi was never afraid to take risks and venture out on his own.
After college, Belisi plunged into the dot.com scene with an Internet advertising company. After the bubble burst, Belisi picked up a job as a bartender at a billionaire watering hole in Palm Beach, Florida. With an eye on his next opportunity, Belisi quickly discovered his calling--fashion. His successful clientele had one thing in common (besides money): impeccable style--from their shiny Italian loafers to imported silk neckties
A plan began to take shape when Belisi realized that the right wardrobe was key to success in business and in a community like Palm Beach. As Ralph Lauren was known among his peers to have his finger on the pulse of fashion trends (he even sold ties to his classmates), Belisi became known for the unique ties he designed and wore to work. Little did his customers know they were participating in market research.
Ever the entrepreneur, Belisi got to work on bringing his designs to life in a collection of exquisite Italian ties for men and silk scarves for women. Why accessories?
"I believe accessories are the start, not the finish of the design-inspired look -- with the right accessories, even average garments are transformed into winning style," says Belisi.
The article also revealed the next steps in Belisi's rise to building his fashion empire--the launch of his much-anticipated handbag collection and the opening of a private label retail store.
Despite the bustling activity, Belisi still finds time to give back to the community and remains steadfast in his commitment to the Belisi "Luxury with Meaning" program, which allows customers to designate a charity that will receive a donation based on a percentage of proceeds from each sale on http://www.belisi.com.
About Belisi Fashions:
The Belisi brand is Peter Belisi's creative fusion of vibrant Palm Beach colors with Italian-inspired design. Belisi embodies the spirit of true entrepreneurship with a passion for the best of everything, which is evident in the quality products produced. Each dramatic detail in a Belisi tie, pocket square and scarf represents Belisi's unwavering commitment to creating fashion products that embody timeless sophistication and enduring beauty.
###