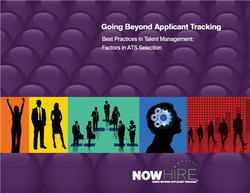 Many systems lack a level of customer service that is common in systems for sales, customer support and product service departments
Detroit (PRWEB) February 26, 2008
Companies looking for an applicant tracking system, as a first-time investment or a replacement system, have a dizzying array of vendors and capabilities to sort through. The best way to determine which ATS will work for an organization is to consider five important points, detailed in a new white paper from nowHIRE.
Best Practices in Talent Management: Factors in ATS Selection describes key considerations for companies in evaluating an ATS that helps them both acquire and retain the best talent within a highly competitive employment market. The complimentary white paper from nowHIRE can be downloaded at http://www.nowhire.com/register_whitepaper_pr.htm.
A key point is considering the forgotten customer: the applicant. To generate high application and offer acceptance rates, the ATS should optimize the customer experience for the applicants.
"Many systems lack a level of customer service that is common in systems for sales, customer support and product service departments," said Joseph Impastato, nowHIRE's founder and president. "Today's online-savvy applicants will quickly move on in their job search if they encounter career sites that are hard to navigate, waste their time, or seem to suck their applications and resumes into some kind of void."
Impastato added that companies must take into account the needs, preference and other demographic information of their target workforce - before they purchase the ATS. Does the ATS easily integrate with the company's career site, the first experience most candidates have with a potential employer? Does the ATS vendor include toll free and e-mail applicant support with the monthly license fee? Does the ATS enable hiring managers to quickly and regularly communicate with applicants? Does the ATS integrate with multiple vendor types (i.e. background checking, assessments, HRIS, etc.)? Is the application process appropriate for the computer fluency, culture and age of the target demographic? Candidates who can't easily find job opportunities or don't feel welcome will likely not even complete the application process.
The white paper also stresses the need for a streamlined and efficient talent acquisition process for two very distinct demographics - salaried and hourly. Corporations in the retail and hospitality markets, for instance, need an enterprise-level system that can be easily configured to screen, recruit and hire both salaried and hourly populations, two vastly different processes.
To discover other key considerations for ATS selection, download a copy of the white paper, Best Practices in Talent Management: Factors in ATS Selection, at http://www.nowhire.com/register_whitepaper_pr.htm.
About nowHIRE
Since 1998, nowHIRE has been a premier provider of applicant tracking systems for companies of every size within diverse vertical markets. Their industry-defining solutions feature fully integrated, Web-based recruiting and applicant tracking software modules. Companies are able to configure the software to their specific recruiting needs--whether it be for hourly, salaried, internal or contingent employees, or any combination thereof. nowHIRE's solutions give clients what they call "Zoom"--the competitive edge.
Media Contact:
Joseph N Impastato II
586-778-8491 (15)
Joseph.Impastato(at)nowHIRE.com
Gail DeLano
Fisher Vista, LLC / HRmarketer.com
831-685-9700
gdelano(at)fishervista.com
Adriana Saldana
Fisher Vista, LLC / HRmarketer.com
831-685-9700
asaldana(at)hrmarketer.com
This press release was distributed through eMediawire by Human Resources Marketer (HR Marketer: http://www.HRmarketer.com) on behalf of the company listed above.
###