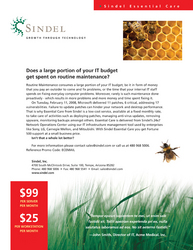 Businesses today face an environment filled with challenges
Tempe, AZ (PRWEB) February 27, 2008
Sindel Technology Solutions announced the expansion of its managed services portfolio with launch of the Essential Care Program, a new feature designed to help businesses and their Information Technology (IT) departments, manage, measure and improve their business continuity programs.
Sindel, a provider of information infrastructure solutions, is a firm dedicated to helping businesses grow by developing integrated and individualized technology solutions and services. The company has been operating in Tempe, Ariz. for 15 years.
Sindel's Essential Care Program for desktops and servers provides businesses with the essential updates and tools needed to keep their computer systems running efficiently. The process is completely automated, and is designed to seamlessly blend into workday events to eliminate disruptions to a regular schedule.
"Businesses today face an environment filled with challenges," said Sindi Major Martinez, President and CEO. "They have to navigate the waters of diverse compliance regulations, increased demands for improved data availability, and deal with exposure to potential disasters that could disrupt crucial operations. With the Essential Care Program, we have created a reliable and affordable solution that helps to reduce the loss of productivity commonly encountered when items such as patches are not kept up to date."
Sindel's concern is echoed throughout the industry. According Forrester Research's contributor Alexander Peters, Ph.D., "IT has a natural tendency toward adding unnecessary complexity in the form of duplicate assets, multiple processes to achieve the same ends, or overlapping organizational responsibilities."
As businesses around the country focus on leveraging best practices and expertise of service partners to protect their critical business information The Essential Care Program allows internal IT staff to focus more on essential business operations by freeing up their time from the burdensome management of processes and patches.
"Essential Care has helped me by spotting service issues before they become a visible problem for my users. This allows me to maintain higher total uptime, which means my company enjoys consistently high productivity." Mike McCarter, Information Systems Manager at the Greater Phoenix Economic Council.
The Essential Care Program was designed as a direct result of Sindel's commitment to providing solutions for its clients by creating a comprehensive solution for client challenges. With Essential Care, Sindel reduces management overhead and prevents downtime. The Essential Care Program includes the Essential Desktop Care and the Essential Server Care.
For the cost of $25 per desktop per month, the Essential Desktop Care features platform monitoring, anti-virus management, spyware detection and removal, patch management, temporary file and internet debris removal as well as service pack roll outs.
At $99 per server, per month, the Essential Server Care includes platform monitoring, monitoring of backups on compatible systems, anti-virus management, a 24/7 monitoring, analysis and escalation; operating system/terminal server, active directory, Microsoft Exchange, Microsoft SQL Server and patch management.
Essential Care is available nationwide.
About Sindel, Inc.:
Based in Tempe, Ariz., Sindel, Inc. is an award-winning provider of information infrastructure technology and solutions. For more than 15 years, Sindel has been creating solutions that enable businesses and organizations to transform themselves by leveraging its technology. Additional information about Sindel can be found online at http://www.sindel.com or by calling 602-319-6953.
###