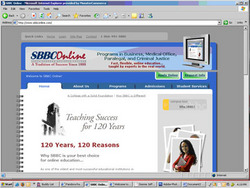 SBBCOnline students enjoy a great deal of interaction with their instructors and other students as well
Santa Barbara, CA (PRWEB) February 26, 2008
SBBCollege, known historically as Santa Barbara Business College, is taking its rich 120-year history from on-ground to online with the launch of SBBCOnline. SBBCOnline, located on the web at SBBCOnline.com, offers Associates Degree programs in Business Administration and Criminal Justice as well as a diploma program in Medical Office Systems. This provides students with increased flexibility to obtain high-demand degrees.
The new online campus provides distance education with an active instructor, interactive lessons, and virtual discussions for individuals interested in obtaining a Medical Office Systems Diploma or a Criminal Justice or Business Administration Degree online.
"SBBCOnline students enjoy a great deal of interaction with their instructors and other students as well," says Matthew Johnston, President of SBBCollege. "As is the case with our five physical on-ground campuses, our online instructors take pride in their students' success and are willing to devote the extra time and attention needed for them to do well." Whether working towards a Criminal Justice, Medical Office Systems, or Business Administration degree online, SBBCOnline students can easily access the resources they need.
Santa Barbara Business College has an extensive history as one of the oldest educational institutions in the country. It was founded in 1888, and employs instructors that are working professionals in the fields that they teach. SBBCollege and SBBCOnline are committed helping students increase their ability to achieve career advancement, job satisfaction, and higher paying salaries.
"As one of the oldest colleges in the nation, SBBCollege has been a champion in career education since 1888," says Johnston. "Students attending SBBCOnline get the benefit of our 120 years experience in successful career-focused education. We're quite proud of that."
Students of SBBCOnline can thus be proud of the degree they obtain from the latest addition to SBBCollege's offerings, and SBBCollege will help students translate that pride into a career. The College's career services team works with each student to assist them in finding a job in their chosen field at graduation. SBBCollege's accelerated programs are designed for students interested in entering the job market quickly.
To help make college affordable, SBBCollege offers scholarships and financial aid for those who qualify.
The College's initial online offerings of Business Administration, Criminal Justice, and Medical Office Systems are just the beginning. New programs will be added in the coming months.
About SBBCollege:
SBBCollege is one of the oldest private schools in California and the country. The primary curriculum focus throughout SBBCollege's history has been business, and over the years, curriculum has expanded to include programs in Healthcare and Criminal Justice. Applications are available on the SBBCOnline website, and additional details can be obtained by submitting a request. For more information, SBBCollege invites you to visit SBBCOnline.com.
###