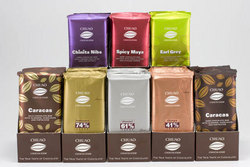 The grocery business allows us to share our chocolates with more people so they could experience what we call The True Taste of Chocolate™
Carlsbad, CA (PRWEB) February 29, 2008
Safeway and Wegman's are now carrying a selection of Chuao Chocolatier's premium artisan chocolate bars. Tree of Life, DPI West and Tzetzo Brothers distribute the chocolate bars to the two specialty grocers.
Safeway, which operates over 1,740 stores across the United States, will be carrying the Spicy Maya, Chinita Nibs and Earl Grey chocolate bars across the country in their gourmet chocolate sets. They will also be carrying Chuao Chocolatier's mini-bar, called the ChocoPod, in Spicy Maya and Nutmeg flavors. Wegman's, with more than 70 stores in the Northeast now carries the Spicy Maya, Earl Grey, Chinita Nibs and Caracas Dark chocolate bars.
Relative newcomers to the specialty and conventional grocery business, Chuao Chocolatier is best known for their chocolate cafés located throughout San Diego, California. Their growth into the specialty grocery business with their chocolate bars, ChocoPods and hot chocolate has been swift and successful with other recent new customers including Ralph's, Gelson's, Bristol Farms, Food Emporium, Cost Plus and more.
The company was founded by Venezuelan brothers Richard and Michael Antonorsi, who named the company in homage to their cacao-farming ancestors after the legendary cacao-producing region of Chuao (pronounced chew-WOW) located in central Venezuela.
"The grocery business allows us to share our chocolates with more people so they could experience what we call The True Taste of Chocolate™," says Chef Michael Antonorsi, Master Chocolatier and co-owner. "It's an experience that goes beyond just eating chocolate and moves you to the perfect balance of spices and other fresh, natural ingredients. It's a sensory experience that with each bite arouses you through unusual, unexpected and delicious taste sensations."
Chuao Chocolatier's line of chocolate confections are available year round to the retail and hospitality business with a selection of bonbons, chocolate bars, hot chocolate and additional specialty items. Chuao Chocolatier's chocolate bars suggested retail price is $5.99
About Chuao Chocolatier
Chuao Chocolatier, located in Carlsbad California, is committed to arousing your senses through unusual, unexpected and delicious all-natural confections made with Venezuelan chocolate and fresh, natural ingredients. The first Venezuelan chocolatier based in the United States, the company was founded in 2002 by Master Chef Michael Antonorsi and his brother Richard. The company currently owns and operates five Chuao Chocolatier Chocolate Cafes in Southern California and has a boutique in Coral Gables, FL. Their chocolate bars, hot chocolate and other gourmet chocolate confections are available at fine retailers nationwide including select Whole Foods, Crate & Barrel and Safeway as well as five star hotels including Omni Hotels, La Costa Resort & Spa, Four Seasons and Hard Rock. For additional details visit http://www.chuaochocolatier.com or call (888) 635-1444
###