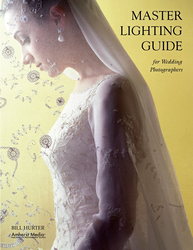 Buffalo, NY (PRWEB) February 29, 2008
Wedding photography is one of the most demanding photographic genres. Photographers have only a few hours to craft and capture images that will depict one of the most important days of a couple's life. Simply put, there are no retakes.
In this book, Rangefinder editor Bill Hurter (along with a host of the most well-known photographers in the industry!) shows how to choose and use the equipment needed to create spectacular images that allow for flexible creativity. This book shows how to select the equipment needed to ensure an effective, efficient shoot at any location, how to create traditional lighting styles, how to downplay the client's perceived flaws with carefully controlled light and shadow, and how to modify and/or supplement ambient (existing) room light or natural light to produce the most pleasing-possible images. Also shown is how to ensure the best color balance for each image, and how to calculate light ratios. http://www.amherstmedia.com/miva/merchant.mvc?Screen=PROD&Product_Code=1852&Category_Code=
Natural light can produce a beautiful, soft quality when it's properly handled. Rather than wait for the right light, this book teaches how to make the most of any lighting scenario, using natural or existing light modifiers like tree branches, porches, and overhangs. Also taught is how to employ some standard photographic tools like scrims, umbrellas, gobos, and reflectors to soften and direct the light and sculpt the image to produce the best-possible look. Get techniques for producing beautiful window-light images. Because photojournalistic (un-posed) images are an important part of most photographers' wedding-day coverage, this book will show how to work unobtrusively with limited lighting equipment to get the candid looks and pure emotion clients demand.
This book is full of tips and techniques for lighting the bride's gown and the groom's tuxedo to show texture and detail, getting great room shots, and lighting and exposing the other important and carefully selected decorative items that help to tell the story of a couple's special day. http://www.amazon.com/Master-Lighting-Guide-Wedding-Photographers/dp/1584282193/ref=pd_bbs_sr_3?ie=UTF8&s=books&qid=1204314134&sr=8-3
# # #