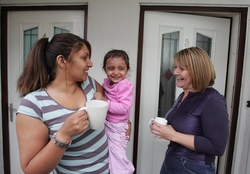 Another selling point was the convenience of the site as I can pop to the supermarket without having to get into my car. I always chat to the staff and often meet someone I know in there.
(PRWEB) February 27, 2008

London Anti-social behaviour and reports of a breakdown in community relations may often grab the headlines, but recent research by Bryant Homes suggests that Brits really do still love their neighbours.
The survey* by Bryant, Homes, which builds new homes across UK, found that people still place great importance on community spirit with 69 per cent outlining that it is very important to have a strong sense community in the areas in which they live. Stereotypically aloof Londoners retained their reputation with fewer people feeling they were part of a strong community. Perhaps they should head up to Scotland where 88% felt at home.
The survey also found that the tradition of neighbours chatting over the garden fence is alive and well with 87 per cent of us in the UK speaking to our neighbours more than once a week. Regional variations highlighted that the friendliest people are in Wales, where nearly everyone spoke to their neighbour daily. However, once again, Londoner's proved to be the poorer friend with only 32 per cent of neighbours living in London saying they chatted to one another on a daily basis.
The research also found that membership of on-line communities such as Facebook and My Space is not as prevalent as you might think with only 21 per cent of those questioned saying they socialised in this way.
When asked what makes a strong community in the 21st century, the most important factor for 95 per cent of those people surveyed was neighbours you can rely on in an emergency, followed by 92 per cent believing local shops and amenities and 80 per cent stating that a community centre were also important.
David Bridges, Business Development Director, said: "For Bryant Homes, building a safe and friendly community is just as important as building houses. In the last year we have contributed a large amount for the provision and improvement of community facilities across the UK. Other ways in which we help to encourage new communities to flourish include creating public open space and play areas, supporting new transport links, ensuring thoughtful layout and design of our developments and even establishing groups such as Community Development Trusts."
Bryant Homes, Grand Union Village in London has a Community Development Trust which organises frequent events and activities as well as a regular newsletter and website. Bryant also benefit from a number of shops, a car share club and community facilities including a Snowflakes Day Nursery & Montessori.
The strong community at Grand Union Village is one of the reasons why grandfather of five Peter Askin chose the development.
Peter, 69, said: "When my father, who lived with me, died two years ago it was silly living in a three bedroom house on my own so I decided to downsize. I still wanted to live in this area as my family live nearby and because of my work as a local caretaker. My daughter Fiona saw an advert for homes for sale at Grand Union Village and persuaded me to have a look with her. As soon as I saw the apartment I knew it was the place for me."
Peter moved out of his three bedroom house in Hanwell and in to a two bedroom ground floor apartment, with views of the canal, in June last year.
Peter added: "Aside from the property itself, which is wonderful with beautiful views, I have really enjoyed all the community events which have taken place here. The team here really make an effort to bring people together and the community aspect is one of the reasons why I chose a new home at Grand Union Village. I've very much enjoyed the opportunities to meet my neighbours and find out more about the development.
"Another selling point was the convenience of the site as I can pop to the supermarket without having to get into my car. I always chat to the staff and often meet someone I know in there."
Bryant Homes is also currently offering new properties on nearly 200 developments across the UK. For further information call 0800 028 8888, or log onto http://www.bryant.co.uk.
*ICM interviewed a random sample of 1006 adults aged 18+ from its telephone panel between 24th -26th August 2007. Surveys were conducted across the country and the results have been weighted to the profile of all adults. ICM is a member of the British Polling Council and abides by its rules. Further information at http://www.icmresearch.co.uk
###