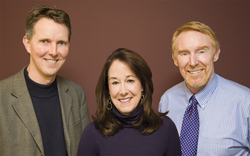 Over the past three years Hoffman York's research team has been devoted to understanding what types of advertising messages women respond to and how they react
Chicago, IL (PRWEB) February 27, 2008
After three years of intensive research, thousands of interviews and a comprehensive review of best practices in the category, Hoffman York is thrilled to announce the establishment of The Kaleidoscope Group, the agency's dedicated business unit and think tank to address best practices in advertising to women.
The group was established to address the disconnect between the powerful female audience, who influence more than 80 percent of all purchase decisions and the male dominated advertising industry - more specifically, the creative teams who develop advertising.
Hoffman York chief creative officer Tom Jordan, as well as the agency's co-directors of strategic planning, Troy Peterson and Elissa Polston, lead the 11-person team of agency professionals dedicated to the art of effectively communicating to women through advertising messages. Each team member offers insights and expertise about advertising to women from past experiences, ongoing client work and involvement in the agency's research.
"Over the past three years Hoffman York's research team has been devoted to understanding what types of advertising messages women respond to and how they react," explained Peterson. "There were numerous theories supporting the claim that women aren't often influenced by traditional brand messages, but the agency couldn't find any research specifically addressing advertising to women. So, we decided that in order to answer questions, test hunches and truly understand advertising to women, new research had to be conducted. To our knowledge it is the first research of its kind," Peterson added.
The agency's biggest surprise is what it has termed The Times Zero Effect. Multiplying any number by zero will always equal zero. It has found the same holds true when advertising to women. If you incorporate even one element into an ad that a woman perceives as negative, the ad will not resonate with her. It's a zero in her mind.
In addition to The Times Zero Effect, Hoffman York's research uncovered many segments of women that, not surprisingly, respond in different ways to different messages. Ultimately, the research has helped uncover the many elements of an ad -- print, interactive, audio or otherwise -- that resonate with women and more importantly, alienate them.
While the group specializes in advertising to women, it's not exclusively about advertising just to women. While researching the topic, the agency learned there are ways to successfully reach women and influence men, as well. In fact, all of the agency's research has been conducted in product categories targeting men and women, including home furnishings, home building products, health care and food. What makes The Kaleidoscope Group different is its approach to creating the message -- first focusing on women and then men.
"We think it makes sense to pay more attention to how you craft advertising messages so you don't alienate women," said Jordan, who oversees all creative development on behalf of The Kaleidoscope Group. "For some products and services, focusing on women can almost double your audience, and if you don't, you risk reducing it by more than half," he added.
Jordan is currently working on his second book, "Before you can advertise to a woman you have to walk a mile in her flip-flops...or 20 feet in her Jimmy Choo suede pumps," which is dedicated to the subject of advertising to women. A chapter of the book, which gives a glimpse of the agency's research findings, is available exclusively on amazon.com.
The Kaleidoscope Group is not just a clever name, rather it's a representation of what Hoffman York is continuing to learn about women. With each turn of a kaleidoscope, the picture changes. Women are the same way. With each change -- a new job, marriage, the birth of a child -- a woman's life changes and so does her perspective and her reaction to advertising.
The bulk of Hoffman York's research is complete, and the findings have been tested in ads amongst a control group of women; however, the agency has an infrastructure in place for additional testing and research if needed. The group is currently working with several clients and is available to consult on a number of areas relating to this critical target with services including communication audits, strategic development and campaign creation, execution and placement.
For more information about The Kaleidoscope Group or to schedule a presentation of the agency's research findings, contact Troy Peterson at (414) 289-9700 or visit http://www.kscopegroup.com.
About Hoffman York:
Hoffman York was recognized for creative excellence in 2005 and 2007 with O'Toole Awards. The full-service agency offers a complete array of advertising, public relations and marketing services and is one of the top independent agencies in the country. Hoffman York has offices in Chicago and Milwaukee. The agency's clients include A&W Restaurants, Advocate Health Care, Arlington Park, Egg Innovations, Focus on Energy, Grainger, Guaranty Bank, Merillat and Quality cabinetry, Milgard Windows & Doors, Notre Dame Mendoza College of Business, Reico Kitchen & Bath, Weber Grill® Restaurant, Wisconsin Lottery and Yamaha Outboards. For more information, visit http://www.hoffmanyork.com.
# # #