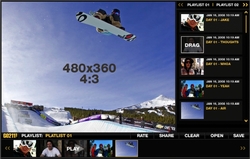 Embed Instructions for Go211 On Air Player
Boston, MA (PRWEB) February 27, 2008
Go211.com (http://www.go211.com), the premier action sports social networking and online video share site announced today that it will be webcasting live coverage of the Nissan X-Trail Nippon Open 2008 Snowboard Championship. Japan's largest snowboarding event, the Nippon Open will take place from February 26-March 2 at Alts Bandai resort in Fukushima.
Part of the Burton Global Open Series and the Swatch Ticket To Ride World Snowboard Tour, the 15th Annual Nippon Open will showcase the world's top snowboarders competing in SuperPipe, ParkStyle, RailJam and KidsJam contests for over $125,000 USD in prize money.
Snowboarding's elite will come together as Shaun White, Jamie Anderson, Antti Autti, Kevin Pearce, Mikkel Bang, Gretchen Bleiler, Kelly Clark, Hannah Teter, Ryo Aono, Kazuhiro Kokubo, Takaharu Nakai, Shota Suzuki, Torah Bright and Daisuke Murakami compete to earn points towards the $100,000 Burton Global Open Series (BGOS) Championship Title and the Swatch TTR World Snowboard Tour ranking.
As the Nippon Open's webcast partner, Go211.com will be streaming the competition live with the launch of an enhanced video player. New interactive features embedded in the player will allow users to:

Chat live with one another while watching the event
Email questions and comments to the announcers and pro athletes at the event which they'll respond to on-air
Stay up to date with the action via live scoring and results
Access the profiles of Go211 Pro Team riders competing at the event
Access event wrap-ups, behind the scenes footage and rider interviews, all of which will be available for on-demand viewing
As part of the beta launch of this intuitive video player, Go211 is opening up the live webcast to other sites for the first time by providing script so that pioneers of its use can easily embed the video player into their own sites and blogs for free. Instructions for embedding the player can be downloaded here in pdf format. Please click on "Embed Instructions for Go211 On Air Player".
The Nissan X-Trail Nippon Open 2008 Live Webcast Schedule on Go211.com *
Wednesday, February 27
7:00pm - 1:45am EST / 4:00pm - 10:45pm PST
Thursday, February 28
7:00pm - 1:15am EST / 4:00pm - 10:15pm PST
Friday, February 29
7:00pm - 11:45pm EST / 4:00pm - 8:45pm PST
Saturday, March 1
6:30pm-12:45am EST / 3:30pm-9:45pm PST

all live webcasts will be replayed the following day at 12:00pm EST / 9:00am PST
For more information, please visit http://www.go211.com.
About Go211.com
Go211.com is the leading community and video site for lifestyle sports created by and for action sports athletes and enthusiasts. It's the place to hang with the Pros and friends to get behind-the-scenes video, blogs, photos, webcasts and podcasts from featured contributors along with other action sports fans. Go211.com offers a broad range of exclusive content submitted directly from the athletes. The current Go211 Pro Team roster includes Danny Kass, Jeremy Jones, Christian Hosoi, CJ Hobgood, Donny Robinson, Hannah Teter, Danny Davis, Andy Finch, Joey Bradford, Ross Powers, Holly Beck, Alise Post, Clay Marzo, Mary Osborne, Danny Caluag, Mike Losness, Seth Wescott, and Kelly Clark, among others.
Media Contacts:
Christopher Cleary - (203) 594-9667, Action Sports Inc.
###