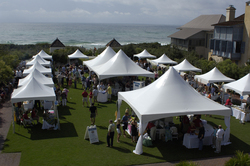 Come help celebrate with us.
Biloxi, MS (PRWEB) February 29, 2008
The Mississippi Gulf Coast will be home to the Southern Breeze Wine Culinary Festival March 7-9, 2008. This three-day event travels across the Gulf Coast states educating and entertaining guests with winemaker dinners, wine tastings, local culinary competitions, seminars and a brunch. Again this year, the festival teams up with industry-leading appliance manufacturer DCS by Fisher & Paykel to bring the festival to Biloxi, MS.
The three-day event brings travelers from all over the U.S. as well as locals to the Mississippi Gulf Coast to celebrate food, wine and Gulf Coast culture. "We are very excited to be in Biloxi. The local restaurants, casinos and businesses are ready to show off what Biloxi has to offer and this is the perfect way to showcase it," says Event Producer and Southern Breeze Publisher J. Gary Ellis.
On Friday evening, wine will flow at local restaurants during the Winemaker Dinners. Thirty-Two of IP Casino and Farradday's of the Isle of Capri Casino will host these five-course gourmet affairs, as local chefs pair their unique cuisine with boutique wines from noted vineyards. Saturday at the Grand Wine Tasting held on the scenic Biloxi Town Green, approximately 150 wines will be available to sample. Wine seminars sponsored by Isle of Capri will be presented by Michael Bryan, executive director of Atlanta Wine School, giving guests the opportunity to heighten the Grand Wine Tasting experience. Sunday's Walkabout Brunch, also held on the Biloxi Town Green, will bring 10-12 local restaurants to compete for the "Best of Brunch" award. Each dish will be paired with a sparkling wine or champagne. A sampling of participating restaurants include Shady's, Simply Seafood and Catering, Carnaval de Brasil, Bayview Gourmet, C & G Grille, Fant's and 27th Avenue Bistro.
The first Southern Breeze Gulf Coast Chef Challenge, co-sponsored by the American Culinary Federation, Gulf Coast Chapter, will also take place during the festival at the Grand Wine Tasting. Eight local chefs will go head-to-head in this one-hour "Iron Chef" style cook-off as they compete for the title of Mississippi Gulf Coast's Top Chef. The winner of the Challenge will go on to compete as the state's representative in the finals later this year.
"We are committed to bringing the good life to the Gulf Coast. This festival is a chance for the community to showcase their talents and the richness of the area," says Mark A. Newman editor of Southern Breeze. "Come help celebrate with us."
The event is growing rapidly, and will take place in two other destinations in 2008.

April 4-6 Baton Rouge, LA
May 2-4 Orange Beach, AL
Ticket prices are as follows: Winemaker Dinner, determined by individual restaurants; Grand Wine Tasting, $55 in advance, $65 day of event; Seminars are $5 each, advance tickets suggested; Gulf Coast Chef Challenge, no admission charged; Walkabout Brunch, $35 in advance, $45 day of event. Connoisseur packages offering the entire weekend premiere experience also are available.
About Southern Breeze Magazine:
Southern Breeze Magazine is published by Compass Marketing, Inc. based in Gulf Shores Ala. with an office in Ocean Springs, Miss. The quarterly upscale lifestyle magazine covers the Gulf Coast region from La. through Northwest Fla. Each issue highlights the unique lifestyle, travel, culture, people, food and entertainment that make the region a wonderful place to live and visit. http://www.southernbreeze.com.
About Compass Marketing, Inc.:
Compass Marketing, Inc. is a multi-functional marketing and publishing company serving more than 600 clients in the travel and tourism industry throughout the Southeast and Mid-Atlantic regions. Compass is a leader in the field of tourism marketing and currently publishes more than 20 custom travel related publications. These publications and projects are created in the form of state, regional, local and private guides, vacation planners, newspaper and magazine inserts, interactive guides, special events, and other collateral materials.
###