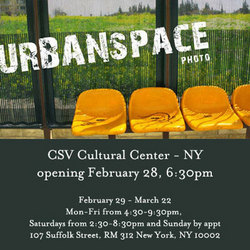 New York, NY (PRWEB) February 28, 2008
Photographers and artists are invited to apply for participation in the 2008 edition of the URBAN SPACE exhibition. Today, Thursday February 28, 2008, another URBANSPACE exhibition is opening at the Clemente Soto Vélez Cultural Center in Manhattan, New York City. The opening reception is from 6-9.30 PM at the Abrazo Interno Gallery, 2nd floor, CSV Cultural Center, 107 Suffolk Street (between Delancey & Rivington Streets).
URBAN SPACE is an international traveling exhibition for artists and photographers. Focusing on the aesthetics of large urban centers as a theme, URBAN SPACE unites internationally selected works of photography and is hosted in the virtual galleries of participatory art platform http://www.wooloo.org as well as at selected galleries.
The first edition of URBAN SPACE -- a projection from over 23 different countries -- was first premiered in Rio de Janeiro at the renowned media arts foundation, Oi Futuro in July 2007. Simultaneous projections were also made in New Life Shop, the Berlin headquarters of WOOLOO.ORG. These projections have since been screened at several exhibitions and festivals including: ECCO during Brasilia's FotoArte, Sao Paulo's Galeria Vermelho, as well as showings during Fotopub07 in Slovenia.
The 2008 edition of URBANSPACE is curated around the theme of "Urban Communities" and looks to examine the diverse formation of local communities, informal situations and other site-specific representations of contemporary urban existence. Anonymity. Survival. Decadence. Defiance.
Submitted works may include photographic documentation of performances and site-specific actions, digital interventions as well as traditional film photography.
To participate or learn more, please go to: http://www.wooloo.org/urbanspace.
About Wooloo.org:
Wooloo.org is a participatory web platform for artists to show their work and take part in curated exhibitions around the world. Founded in 2002, Wooloo.org is today an award-winning art community used by more than 5,500 artists from over 100 countries. Their network of recognized curators short-lists the best works uploaded on Wooloo.org throughout the year and physical exhibitions are held at galleries and art institutions worldwide. Artists can use Wooloo.org to create personal portfolios with both images and videos, present resumes and participate in ongoing projects and residencies.
Wooloo.org is free to use.
###