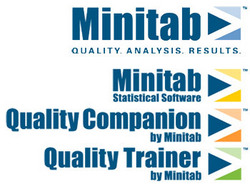 State College, PA (Vocus) February 28, 2008
Minitab Inc. today announced the release of a fully translated, Spanish version of Minitab® 15 Statistical Software, the leading package used to implement Six Sigma and other data-driven quality improvement programs worldwide.
A free, fully functional 30-day trial version of the new software can be downloaded by visiting http://www.minitab.com/es/.
Minitab developed Minitab 15 Spanish as part of its ongoing efforts to help its Spanish-speaking customers more easily achieve their quality improvement goals.
"Six Sigma and other quality improvement methods have really taken hold in Mexico and other Spanish-speaking countries in recent years," says Silvana Smith, Minitab's commercial sales representative for Mexico. "Our release of Minitab 15 Spanish follows our 2006 launch of Spanish-language training and deepens our commitment to providing Spanish-language solutions for quality professionals."
Minitab 15 Spanish includes all the statistical methods and ease-of-use features in Minitab 15 English. Users will find that the entire package has been translated into Spanish, including Minitab's built-in Help, an extensive statistical glossary, and StatGuide™ for interpreting analyses.
"Having access to Spanish translations of Minitab's outstanding documentation will make it easier for Spanish-speaking quality professionals to use our software, giving them the freedom to focus more on the processes they want to improve." Smith says. "We also provide free technical support by phone or online to assist them at any point in their projects."
In addition to its new Spanish-language software, Minitab also has expanded the number of public training courses it offers in Spanish in Mexico, with sessions for beginning and advanced students. Courses available in Spanish include Introduction to Minitab, Basic Statistics, Statistical Quality Analysis, and Factorial Designs. Minitab also offers on-site training and statistical mentoring services in Spanish.
More information about the features in Minitab 15 Spanish, a free 30-day trial version, and a Spanish-language brochure highlighting all of Minitab's products and services are also available at http://www.minitab.com/es/.
About Minitab:
Minitab Inc. is one of the world's leading developers of statistical analysis and process improvement software for academic and commercial users.
Minitab Statistical Software is the preferred package for businesses of all sizes and is used in more than 80 countries by thousands of distinguished companies, including Cervecería Cuauhtémoc Moctezuma, Multibras Eletrodomesticos SA, Sabritas, Toshiba, 3M, Honeywell International, Wachovia, DuPont, Samsung and leading Six Sigma consultants. It has been used to implement virtually every major Six Sigma quality improvement initiative, and to teach statistics in over 4,000 colleges and universities worldwide.
Minitab Inc., headquartered in State College, Pa., operates offices in the United Kingdom, France, and Australia, and has additional representatives throughout the world. For more information, visit http://www.minitab.com.
For more information or materials, including screen shots, product packaging images and logos, and other graphics, contact Eston Martz in Minitab media relations: PublicRelations @ minitab.com.
###