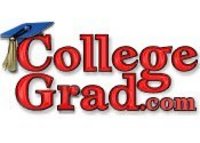 A successful internship can be the ticket to locking down a job offer, or several job offers, early in your final year.
State College, PA (PRWEB) February 28, 2008
CollegeGrad.com, the #1 Entry Level Job Site, today announced the Top 200 Intern Employers for 2008. According to the results of the 2008 Top Entry Level Employers survey, current college students can expect Top Intern Employers to hire more than 46,000 interns in 2008.
The Top Intern Employers list details the 2008 internship hiring plans for 200 employers nationwide, and is available online at http://www.CollegeGrad.com/topemployers/internships.shtml. Each employer page also details projections for entry and masters level hiring for the 2008 recruiting year.
Among the 2008 Top 200 Intern Employers listed by CollegeGrad.com, 53% anticipate hiring more interns in 2008 than 2007. 22% will hire the same number and 25% will be hiring fewer interns than in 2007. But even though more than half of employer respondents indicated they would be increasing their total intern hiring, the total increase in 2008 intern hiring is only 0.52% over 2007 intern hiring.
Why so slight? "It may reflect the uncertainty with the economy," said Brian Krueger, President of CollegeGrad.com. "A small increase is not inherently a bad thing, but it may be showing a leveling off of the demand for entry level talent in future years."
At the top of the list, Walgreens plans to hire 7350 interns in 2008. "We're proud to be the leader in internship opportunities," said Marty Slevin, Walgreens manager of retail management recruitment. "Today, we offer more advancement opportunity than at any time in our 106-year history for students in retail management, pharmacy, technology and a broad spectrum of corporate positions."
Other employers on the list are hiring as many as 2500, and as few as 5 interns in 2008. Across the board, employers point toward their internship programs as critical to future success in their recruiting and business efforts. Recruiting leaders specifically highlight best-fit evaluation as key to that success.
"Interns are critical to the success of ensuring a robust college grad hiring effort," said Jolie Chehadeh, Campus Recruiting Program Lead for Thomson. "Interns experience the organization firsthand and make an informed decision on whether it is the right long-term career fit, and the organization is able to evaluate the skills and overall fit of the intern through firsthand experience."
Lesser known employers find their internship programs valuable for developing on-campus advocates for their company. "Interns go back to their school after working at Argon ST and talk to other students about the positive engineering experience at Argon," said Terry Collins, Argon ST's CEO. "This helps us in hiring higher quality new graduates from their university."
With more than 46,000 internship opportunities represented by the Top Intern Employers list, Krueger recommends that college students take advantage of available internships to launch themselves into post-graduation employment.
"The experience gained in an internship or co-op can be the key differentiator for many new college grads," says Krueger. "A successful internship can be the ticket to locking down a job offer, or several job offers, early in your final year."
Having already completed their internships, the Class of 2008 can look forward to a positive entry level hiring year. Top Entry Level Employer survey results released by CollegeGrad.com last month project entry level hiring to increase 11.8% in 2008.
About CollegeGrad.com:
CollegeGrad.com is the #1 Entry Level Job Site on the Internet and is the leader in the field of entry level job search. Established in 1995, CollegeGrad.com has been conducting the Top Entry Level Employers Survey since 1997. This is the first year the survey has contained an internship section. Brian Krueger is President and Founder of CollegeGrad.com and author of the best-selling book for entry level job search, College Grad Job Hunter.
Contact: Heidi Hanisko
Phone: 262-375-6700
Email: Heidi.Hanisko @ CollegeGrad.com
The full press release, along with additional employer and college career center quotes, is available online at http://www.CollegeGrad.com/press.
This press release was distributed through eMediawire by Human Resources Marketer (HR Marketer: http://www.HRmarketer.com) on behalf of the company listed above.
###