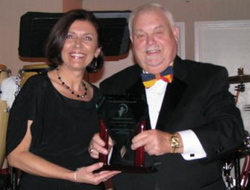 To be recognized for the work my team and I did is an incredible honor
San Diego, CA (PRWEB) February 28, 2008
Tricia Neves, president of Hiring by Design, a San Diego based talent assessment firm, was recently honored by Target Training International (TTI) as the recipient of the prestigious Trainer of the Year Award at the TTI Winners' Conference in San Diego, Calif.
For many companies success or failure isn't necessarily found in the ability to execute on their goals as much as it is based on management effectively communicating those goals to direct reports. When one of the world's most influential banks wanted to maximize communication within a high profile division, Neves and her firm were called upon to train and guide key members of the bank's team to better understand not only what is motivating their employees, but how to communicate in a way that connects with the personality and leadership styles of both management and direct reports.
"It's one thing if your company knows how to get the cream of the crop to your door," says Neves. "But unless you know how to properly identify and manage natural behavior, internal motivators and personal skills of your employees the ability to maximize their talent and accelerate company growth is severely hindered."
As a result of Neves' keen insight into employee behavior, coupled with her skills to train and coach others to better understand and appreciate the behaviors, motivators and personal skills that employees bring to the job, TTI presented the 2008 Trainer of the Year Award to Neves.
Bill Bonnstetter, Chairman of TTI, said "Tricia's dedication and expertise in the industry are vital to her unique training approach that teaches organizations how to effectively meet their human capital management goals through the use of personal assessments."
"To be recognized for the work my team and I did is an incredible honor," said Neves. "TTI's wonderful support plays a huge role in my team's ability to help organizations assess their top talent, recruit the right people for the job and make effective hiring and communication decisions."
About Tricia Neves
Tricia Neves is President of Hiring by Design, and a leading certified behavioral and values analyst. She is a recognized leader in teaching companies how to select, attract and retain the best talent for their organizations.
About TTI
Based in Scottsdale, Ariz., Target Training International is the leading developer and marketer of research-based, validated assessment tools to help businesses and organizations effectively meet their human resource needs. Its products are used by over 7,000 Value Added Associates in more than 50 countries and are available in 26 languages.
###