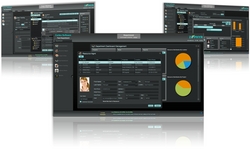 Coming on the heels of a very successful beta program with passionate feedback from over 30 beta customers, we are very excited to be launching a superior product aimed at a large global market that has been clamoring for such solutions
Sunnyvale, CA (PRWEB) February 29, 2008
Zephyr today announced the availability of their Next Generation Test Management System. Zephyr boasts a comprehensive set of test management features that facilitate superior management of all aspects of a Test Department and increase tester productivity and efficiency. Zephyr introduces numerous innovations to the world of test management with Testing Desktops, Real Time Collaboration, Live Reporting and Web 2.0 features, all packaged in a slick UI.
Zephyr has been designed for Test Engineers, by Test Engineers who have experienced the key challenges faced by testing professionals today. These range from having to manage multiple applications to coordinate and manage testing projects, to the frequent reporting requirements from project teams, upper management and customers, to the additional management overhead of keeping geographically dispersed teams in sync and working together.
"Coming on the heels of a very successful beta program with passionate feedback from over 30 beta customers, we are very excited to be launching a superior product aimed at a large global market that has been clamoring for such solutions," said Samir Shah, Founder and CEO of Zephyr.
Today, QA and software testing departments are forced to use multiple disparate, outdated applications to plan, manage, and execute their day-to-day work. Zephyr closes the gap in these product offerings by managing every aspect of a test department -- its people and resources, projects and releases, test assets, documents, test case and data repositories, execution cycles, defect tracking and reporting. It does this by providing a centralized repository server and customized web client views via Rich Internet Applications (RIA). Zephyr provides up-to-date status of all aspects of testing via interactive testing desktops, live dashboards, and instant communication features.
With Zephyr, companies can achieve increased productivity and efficiency, and improved quality of testing. Centralized and contextual department and project test assets, along with integrated management dashboards and communication, enable test departments to increase visibility, improve productivity, create higher quality products and services, and achieve faster time-to-market -- saving time and money.
Zephyr's unique features include:

Rich Desktops and Live Dashboards: Testing desktops provide managers, leads, and testers customized views of the project status, giving managers increased management capabilities, as well as live visibility throughout the project.
Instant Global Collaboration: Multi location testing teams can communicate and collaborate easily, reducing communication and knowledge transfer issues that occur between onsite/offshore teams.
Service Oriented Architecture (SOA)-Based Integration: Open architecture allows for easy integration with other systems.
Testing Delivery Platform: Testing Vendors can customize and brand Zephyr and use it to deliver superior testing services and best-practices to their customers.
Web 2.0 Features: Zephyr brings Real-Time Data Push, Themes, Tagging, and RIAs into the Enterprise world for test management.
Pricing and Availability:
Zephyr's pricing model is simple yet innovative with a unique on-demand monthly or yearly subscription, allowing companies to avoid large upfront capital expenditure and complex binding software agreements. Zephyr's on-premise solution has no software pre-requisites, no major hardware or IT support needed and has been designed for easy download, deployment and administration on a Windows platform.
About Zephyr:
Zephyr dramatically improves the test management experience of testing teams globally and is focused on empowering the product creation processes of Engineering and IT organizations through the development of intuitive, affordable software that contributes to augmented productivity, superior manageability, and enhanced collaboration. Visit Zephyr at http://www.getzephyr.com
# # #