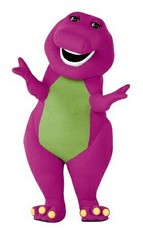 Los Angeles/New York (PRWEB) February 29, 2008
Lions and tigers and bears, oh my! Not to mention dogs and cows and hamsters and elephants and … well, a veritable hodgepodge of representatives from the animal kingdom are introduced in Barney Animal ABCs, the latest title featuring everyone's favorite purple dinosaur, available March 4, 2008 from Twentieth Century Fox Home Entertainment and HIT Entertainment.
Celebrating an extraordinary 20th year entertaining children - making him a true Jurassic Classic - Barney is back along with Baby Bop and all their endearing playground friends to introduce a fun new way to practice the alphabet and learn interesting facts about different animals.
In Barney Animal ABCs, the gang has found building blocks featuring the alphabet. Wanting to play a game using the blocks, Barney suggests finding an animal to match each letter. As they move from ants to gophers, iguanas to whales - even finding matches for the ever-elusive Q, X and Z (quails, X-ray fish and zebras, in case you were stumped) - the two-fold lesson is both entertaining and educational as each animal is introduced with a description of its characteristics, physical attributes, habitats and more.
Featuring both classic ditties like "Old Macdonald, " "The Ants Go Marching" and, of course, the "Alphabet Song," along with original tunes, the live-action program takes viewers to a dog park, the zoo (petting and other) and even the circus to watch the animals in their simply natural but wondrous glory. Along the way young learners also learn the importance of taking care of beloved pets and what a veterinarian does. So pony up with Barney Animal ABCs and give kids a roaring good time, doggone it!
The DVD release coincides with the second leg of Barney's 20 City Purple Bus Tour, which includes visits to Children's Miracle Network Hospitals, appearances at Toys"R"Us stores and the launch of new toys from Play Along, a division of JAKKS Pacific.
Barney Animal ABCs Fast Facts:

Street Date: March 4, 2008
DVD SRP: $14.98 (U.S.), $18.98 (Canada)
DVD Running Time: 55 minutes
Highlights:

Bonus Episode: Fifi and the Flower tots "Stingo Gets Stuck"
Auto Play
Spanish Language Track
Barney 20th Birthday National Purple Bus Tour:
To coincide with the latest DVD release, Barney will continue his 20-city Big Purple Bus Tour, sponsored by JAKKS pacific and in partnership with Toys"R"Us and Children's Miracle Network. At each three-day stop, Barney will visit children at local Children's Miracle Network hospitals where he will perform a birthday Sing-Along, take pictures with children and donate toys and DVDs to the hospital.
On the second and third day of each local stop, Barney will host a meet-and-greet birthday party at Toys"R"Us stores. Children will have the opportunity to present Barney with a super-dee-duper birthday card that they design and create right at the Toys"R"Us store!
Barney's Big Purple Bus Tour Spring Leg:
Houston, TX: 2/29 - 3/2
Dallas, TX: 3/7-3/9
San Francisco, CA: 4/4-4/6
Seattle, WA 4/11-4/13
About HIT Entertainment
HIT Entertainment, owned by private equity investment group Apax Partners, is one of the world's leading independent children's entertainment producers and rights-owners. HIT's portfolio includes properties, such as Barney™, Bob the Builder™, Thomas & Friends™, Pingu™, Fireman Sam™, Angelina Ballerina™ and Rainbow Magic™. HIT represents Fifi and the Flowertots™ and Roary the Racing Car™ in North America and Japan and acts as a worldwide representative for The Jim Henson Company's library of classic family brands and as representative for The Wiggles® in the UK. HIT also owns the Guinness World Records™ publishing and television property. Launched in 1989, HIT's lines of business span television and video production (including studios in the US and the UK), publishing, consumer products licensing and live events. With a catalogue of more than 1,000 hours of young children's programming, HIT sells its shows to more than 240 countries worldwide, in more than 40 different languages and has operations in the UK, US, Canada, Hong Kong and Japan. In 2005, the Company joined Comcast Corporation, PBS and Sesame Workshop to launch PBS KIDS SproutSM, a 24-hour digital cable channel and VOD service for preschoolers.
About Twentieth Century Fox Home Entertainment
A recognized global industry leader, Twentieth Century Fox Home Entertainment LLC is the worldwide marketing, sales and distribution company for all Fox film and television programming on VHS and DVD as well as video acquisitions and original productions. Each year the Company introduces hundreds of new and newly enhanced products, which it services to retail outlets - from mass merchants and warehouse clubs to specialty stores and e-commerce - throughout the world. Twentieth Century Fox Home Entertainment LLC is a subsidiary of Twentieth Century Fox Film Corporation, a News Corporation company.
# # #