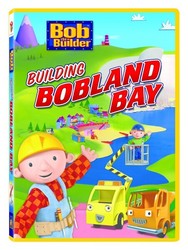 Los Angeles/New York (PRWEB) February 29, 2008
Bob the Builder™ and the Can-Do Crew team are building a wonderful new seaside development for the citizens of Sunflower Valley - complete with a new lifeguard tower, drive-in movie theater, skate park and more - in the all-new DVD Bob the Builder: Building Bobland Bay, in stores March 4, 2008 from Twentieth Century Fox Home Entertainment and HIT Entertainment.
Featuring six brand new stories, Building Bobland Bay sees Bob and his Can-Do Crew visit new locations, face new building challenges and make new friends. Building Bobland Bay motivates young builders to complete the task at hand and have fun while doing so!
In the acclaimed Bob the Builder series, created by Keith Chapman, Bob always demonstrates that the Fun Is In Getting It Done. Along with his business partner Wendy, Spud the Scarecrow and the machine team, including Scoop, Muck, Lofty, Roley, Dizzy, Packer and new members Flex and Tumbler - the team always has the right tools and the right attitude to work together and complete any job. Can they fix it? Yes they can!
Bob the Builder: Building Bobland Bay Fast Facts:

Street Date: March 4, 2008
DVD SRP: 14.98 (U.S.)/$18.98 Canada
DVD Running Time: 54 minutes
Bonus Features:
Fireman Sam episode entitled "Bug-Eyed Boy From Venus"
"Fifi and the Flowertots episode "Hole Lot of Fun"
Spanish and French language tracks.
Stories on Building Bobland Bay include:

"The House That Lofty Built" - Bob has turned his mobile home into the on-site office for the Bobland Bay development, forgetting that he'll need to find a place to sleep! Lofty takes up the task of creating a shelter for him, but not without a few structural hurdles to clear. In the end, the team realizes that no matter the dwelling, there's no place like home and sharing it with friends in the best home of all.
"Bob's Big Idea" - Everyone decides that it's high time Bob had a dream house of his own and come up with all sorts of ideas for the design. Problem is, Bob can't think of any ideas of his own! But after seeing his friends working hard on his behalf, he realizes it's not who has the ideas, it's being part of a team that's important.
"Lofty the Lifeguard" - Faster than you can say Baywatch … Famed film director Oscar Flicks has come to town to shoot his new action movie. But, Lofty is terribly camera shy! When fear gets the better of him, he must overcome it to save Oscar from a watery fate.
"Star Struck Spud" - Bob and the team make plans to build a drive-in movie theater and the first flick shown will be Oscar's new project starring lifeguard Mitch Dixon. Spud, ever eager to be part of the action, becomes Oscar's assistant but struggles to succeed at the tasks at hand. Can he find his place and get the job done to help get the movie made on time? Yes he can!
"Tumbler and the Skate Park" - Everyone excitedly waits for the new skate park to be built. It's a cement job too big for just Dizzy so new crew member Tumbler, a loud, boastful cement mixer, arrives and wastes no time undermining Dizzy's contributions. When his big wheels get him into trouble, it's a humbling lesson for Tumbler, who realizes that bigger doesn't always mean better!
"Fantastic Flex" - Meet new team member Flex, a truck with a very special flexible crane-like arm. When the local lighthouse needs a new lens, Flex, a little too eager to please, tries to deliver it by himself, but soon learns that teamwork means doing what you're best at and letting others do what they're best at. And together everyone can get the job done!
The building adventures in Bobland Bay continue in September when 14 episodes of Bob the Builder - Project: Build It set at this seaside location air on PBS Kids® (check local listings).
About HIT Entertainment
HIT Entertainment, owned by private equity investment group Apax Partners, is one of the world's leading independent children's entertainment producers and rights-owners. HIT's portfolio includes properties, such as Barney™, Bob the Builder™, Thomas & Friends™, Pingu™, Fireman Sam™, Angelina Ballerina™ and Rainbow Magic™. HIT represents Fifi and the Flowertots™ and Roary the Racing Car™ in North America and Japan and acts as a worldwide representative for The Jim Henson Company's library of classic family brands and as representative for The Wiggles® in the UK. HIT also owns the Guinness World Records™ publishing and television property. Launched in 1989, HIT's lines of business span television and video production (including studios in the US and the UK), publishing, consumer products licensing and live events. With a catalogue of more than 1,000 hours of young children's programming, HIT sells its shows to more than 240 countries worldwide, in more than 40 different languages and has operations in the UK, US, Canada, Hong Kong and Japan. In 2005, the Company joined Comcast Corporation, PBS and Sesame Workshop to launch PBS KIDS SproutSM, a 24-hour digital cable channel and VOD service for preschoolers. For more information, visit http://www.hitentertainment.com and http://www.hitshopusa.com.
About Twentieth Century Fox Home Entertainment
A recognized global industry leader, Twentieth Century Fox Home Entertainment LLC is the worldwide marketing, sales and distribution company for all Fox film and television programming on VHS and DVD as well as video acquisitions and original productions. Each year the Company introduces hundreds of new and newly enhanced products, which it services to retail outlets - from mass merchants and warehouse clubs to specialty stores and e-commerce - throughout the world. Twentieth Century Fox Home Entertainment LLC is a subsidiary of Twentieth Century Fox Film Corporation, a News Corporation company.
###