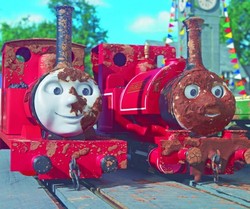 Los Angeles/New York (PRWEB) February 29, 2008
Join beloved Thomas the Tank Engine™ and all his Narrow Gauge friends, as they head off on exciting adventures in the all-new DVD Thomas & Friends: Engines and Escapades, arriving in stores nationwide March 4, 2008 from Twentieth Century Fox Home Entertainment and HIT Entertainment. Thomas and his Narrow Gauge friends Duncan, Rusty, Freddy, Skarloey, Rheneas, Sir Handle, controller Percival and Thomas' newest friend Madge, the kindly snub-nosed truck, come down the tracks in these six never-before-seen adventures with storyteller Michael Brandon. In addition, children can sing-along with the puffing steam cloud to two music videos.
"Duncan Does It All" - Duncan, the engine who enjoys staying busy, has become bored with his usual job of transporting straw around Sodor. His desire for exciting new work leads to a day of job-hopping, taking over the duties of his engine friends with the promise to do a good job. But after realizing he never completed any of the tasks he agreed to do, he quickly corrects his mistake, learning that it's always important to keep your word and finish what you start.
"Sir Handle in Charge" - Sir Handel, one of the oldest and wisest of the Narrow Gauge Engines, likes telling others what to do. When the depot controller Percival gives him the responsibility of fulfilling a very important special, Sir Handel sets out to find the very best engines to complete the task. The others offer their help, but in his one-track-mindedness to find them, he winds up not actually listening to them, soon realizing that he hasn't assigned anyone to the work. He quickly tracks the other engines down and the job gets done in time, leaving Sir Handel with the lesson of how important it is to listen.
"Cool Truckings" - It's winter and snow covers the Island of Sodor. Madge, the kindly snub-nosed truck, is tasked with bringing Duncan to the transfer yard to pick up a load of coal. Though she is all about road safety, it doesn't take much prodding from Duncan to tempt Madge to forgo common sense and undertake exciting new driving maneuvers. But after a crash and a dangerous encounter with the edge of a cliff, Madge chooses responsibility over recklessness and delivers Duncan safely to the yard.
"Ding-a-Ling" - Engine Freddy knows more about the island's countryside than just about anyone. But when he is tasked with delivering Percival's shiny new red bicycle, he can't seem to find a new bell for it anywhere! When other types of bells - cow bell, clown bells, a school bell - fail to be a perfect match for the bike, a newly refurbished fog horn inspires Freddy to have Percival's old bicycle bell polished up and transferred to the new bike, showing how worthwhile and rewarding recycling can be.
"Skarloey Storms Through" - On a rainy day, Engine Skarloey comes across a farmer in need of having his sheep transported down from the top of the hill to safety from an impending storm. Frightened by the increasing thunder and lightning, Skarloey hides out, letting the other engines do all the work. But when they have done all they could, Skarloey musters up the courage to come out and fight his fear to finish the job.
"Wash Behind Your Buffers" - Madge is back, this time tasked with making sure Engines Rheneas and Skarloey are washed and polished for the upcoming County Fair and Engine Parade. Racing throughout the countryside, Madge gets the job done but finds herself coated with mud and very little time to get cleaned up herself so she can pull the parade's brass band! After a quick bath, all three vehicles are spotless and ready to roll!
Thomas & Friends: Engines and Escapades Fast Facts:

Street Date: March 4, 2008
Pre-Book Date: February 6, 2008
DVD SRP: $14.98 (U.S.), $15.98 (Canada)
DVD Running Time: Approximately 50 minutes
About Thomas & Friends
Thomas & Friends invites children to enter a world of imagination through the tracks of a train and the words of a story. Thomas the Tank Engine was created by a father for his son more than 60 years ago. Today, families in more than 145 countries enjoy fun and adventure with their engine friends while experiencing timeless life lessons of discovery, friendship and cooperation. Thomas & Friends is making tracks to great destinations on PBS KIDS® and PBS KIDS SproutSM.
About HIT Entertainment
HIT Entertainment, owned by private equity investment group Apax Partners, is one of the world's leading independent children's entertainment producers and rights-owners. HIT's portfolio includes properties, such as Barney™, Bob the Builder™, Thomas & Friends™, Pingu™, Fireman Sam™, Angelina Ballerina™ and Rainbow Magic™. HIT represents Fifi and the Flowertots™ in North America and Japan and acts as a worldwide representative for The Jim Henson Company's library of classic family brands and as representative for The Wiggles® in the UK. HIT also owns the Guinness World Records™ publishing and television property. Launched in 1989, HIT's lines of business span television and video production (including studios in the US and the UK), publishing, consumer products licensing and live events. With a catalogue of more than 1,000 hours of young children's programming, HIT sells its shows to more than 240 countries worldwide, in more than 40 different languages and has operations in the UK, US, Canada, Hong Kong and Japan. In 2005, the Company joined Comcast Corporation, PBS and Sesame Workshop to launch PBS KIDS SproutSM, a 24-hour digital cable channel and VOD service for preschoolers. In 2007, HIT and Chellomedia, the European content division of Liberty Global, Inc and its subsidiary ChelloZone, announced a joint venture to launch and distribute JimJam, an international preschool TV channel (excludes the US, UK and China).
About Twentieth Century Fox Home Entertainment
A recognized global industry leader, Twentieth Century Fox Home Entertainment LLC (TCFHE) is the worldwide marketing, sales and for all Fox film and television programming on VHS, DVD and Blu-ray Disc (BD) as well as acquisitions and original productions. The company also releases all products around the globe for MGM Home Entertainment. Each year TCFHE introduces hundreds of new and newly enhanced products, which it services to retail outlets -- from mass merchants and warehouse clubs to specialty stores and e-commerce - throughout the world. Twentieth Century Fox Home Entertainment LLC is a subsidiary of Twentieth Century Fox Film Corporation, a News Corporation company.
###